Boondocking for Free Travel in the US
by B. Ready Travel Staff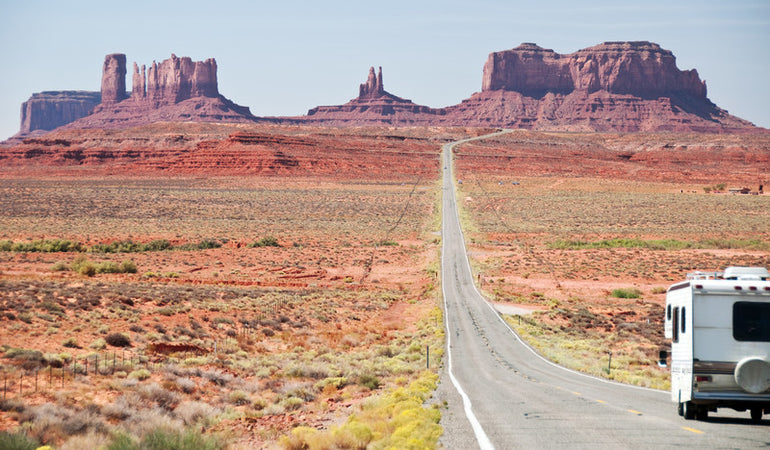 Oct
2020
"I want to unplug and reconnect to the vast beautiful wilderness," the adventurer inside you dreams. People are connected more than ever to electronic devices—yet disconnected from the wild world outside their homes. Compile this with social distancing at home for endless months in the wake of the COVID-19 pandemic and finding a way to safely travel and explore our natural world becomes almost a necessity to feel rejuvenated and alive. Boondocking may be the perfect answer. Boondocking means heading out into the wilderness (the boonies), in a recreational vehicle (RV) or trailer, and camping off-grid. Also known as dry camping, boondockers skip the traditional campsite—with the site assignments, associated neighbors, and services like trash pickup, facilities, and electric hookups. Essentially, boondocking involves being equipped with a self-sufficient rig, discovering a secluded spot with gorgeous scenery, and then camping! This is similar to dispersed or primitive camping, with the added luxury of a comfortable home away from home. It does require a bit of research in choosing a place to camping legally, and some prep to make sure you have the essentials to camp safely and in comfort. Read on to explore this fantastic mode of adventure travel while staying socially distanced, saving some cash, and connecting to nature. Boondocking also by its very nature provides an easy experience of travel safety.
Boondocking's increase in popularity 
Popularity for this type of travel adventure was already growing in recent years. Since this spring, in response to the 2019 Novel Coronavirus, a surge in RV rentals and purchases reflects the desire for travelers to socially distance and avoid shared travel accommodations. Boondocking is a wonderful way to adapt to current safety needs while not missing out on the beauty and adventure in life.
RVs are changing to accommodate for off-roading
Traditional favorites like Airstream and Winnebago are upping the ante and have introduced new models with off-road tires, increased ground clearance, and stronger windows to stand up to backcountry tree branches. A surge of new companies offering next-level comfort and luxury off-road 4-wheel drive adventures have popped up and continue to grow. A few of these companies with eye-catching-make-you-want-to-hop-in-and-takeoff RVs and campers include:
Opus — With a pop-up inflatable frame boasting 8-foot high ceilings, skylights, a stainless-steel kitchen with gas stove, and several days of water storage this camper packs down small but opens up big
Polydrops — Light and compact but complete with kitchenette, 4-season capabilities, solar heating and ac system, and a 4-gallon solar heated road shower
EarthRoamer — The ultimate in tough and luxury, this RV offers solar/diesel hybrid power, 4-season capabilities, granite countertops, a full bathroom, and massive water and fuel tanks
Adventure while working remotely
Working remotely provides the freedom to work from wherever you please. Why not take to the road and find a picturesque new spot to sip morning coffee and finish writing that report. If Wi-Fi is required to get the job done, most mobile phones have capabilities to work as a mobile hotspot if you have a phone signal. Wide open spaces even when remote often get a good mobile signal, particularly in the southwest United States. While so many of us are focusing on social distancing, the trend of spreading out for more personal and family space is growing. Travel safety products should be part of the remote travel and distancing plans.
SAVE 10% now on all travel packs!
Join our Electronic Travel Mag
mail list and we'll send you a coupon good for
any travel packs.
Where to go for a boondocking experience
Finding a decent place to legally park for a night or more can be a challenge in some locations. Fortunately, there are boundless opportunities throughout the US for boondocking, and many clever ways to locate one. Find your perfect spot to camp with these websites and apps:
Boondockers Welcome — This website takes the guess work out of where to stay. It matches hosts who have properties suitable for RVs with guests traveling in their self-contained camper. The stay is free, and it is a wonderful opportunity to travel the country safely on a budget. Some hosts even provide electric hook ups, and the website sweetly suggests giving your host a small gift in exchange for using their electricity.
Dyrt Pro — Find the perfect camp spot for a tent, cabin, RV, or trailer. Website membership includes access to over one million camping locations across the US. Sites types vary; some are on public land or private campgrounds, some are primitive, while others provide amenities with associated fees. Members post reviews and photos to help their fellow traveler and for the chance to win camping gear. With the Dyrt Pro app, features are accessible from your mobile phone with the option to download the offline maps and find places to boondock when outside of cell service.
US Public Lands App — This app, available for iPhone and iPad, is a fantastic resource for camping within National Forests and BLM land. Referred to as dispersed or primitive camping, boondocking is generally allowed anywhere within a national forest and BLM land as long as there isn't a sign saying otherwise. Camping is usually allowed in the same spot for about two weeks. With a big RV, it may be difficult accessing some of the forest roads unless you have an off-road RV or trailer. It is advisable to consult with a local ranger station for their suggestions on where to camp, and to check if a permit or pass is required. Research where to stay before venturing in, as there may not be mobile phone service once inside.
Boondocking tips for a successful trip
Make your boondocking journey a wonderful, relaxing experience. Stay out longer and stay safe by practicing the following tips:
Plan to conserve water. If your rig does not include a bathroom, consider filling up a solar shower ahead of time and invest in a composting toilet. Dry shampoo, hand sanitizer, disinfecting wipes, and baby wipes can be your best friend
Invest in a good antimicrobial and fine particle portable water filter and camp near a fresh water source
Analyze your power needs; LED lights are an efficient choice and can extend battery life, a propane tank for a stove, a small fridge, and heating requirements can last for a week or more, and solar panels with a battery can keep you powered indefinitely
Respect local wildlife and avoid leaving food and trash out, observe wildlife from a distance
Be mindful of human visitors—although problems are rare, it is better to be prepared. Keep expensive items out of site and locked up, some campers prefer to keep pepper spray or a baseball bat for added security
Boondock safety essentials
Prevention is the most important step in avoiding mishaps, illness, and injury. Being prepared is the best way to handle those unavoidable accidents or unfortunate occurrences. Have these items in your travel kit for emergencies and to stay safe:
Keep a charged mobile phone ready to use and know where the nearest reception location is, as well as the nearest landline. Have a list of important phone numbers in case your phone does not work.
Pack emergency items including a first aid kit, extra water and food, extra fuel, and a complete tool kit for repairs.
Have personal safety essentials handy for trips into town during the pandemic, including a face covering or mask, hand sanitizer, disinfecting wipes, and disposable gloves.
Discover travel safety packs for road trips
The road trip you dream about
Boondocking may be that epic trip you have been waiting for. Whether going for a night, a month, or indefinitely, pack personal wellness essentials like insect repellent, sunblock, lip balm, and moisturizing body butter bar. B. Ready custom travel packs Could hitting the road make you or a fellow traveler motion sick? Set queasy stomachs at ease by customizing your travel wellness pack to include a peppermint inhaler and tummy drops for a more pleasant journey. Explore the wonders this country has to offer, be it mountains, deserts, or open plains in safety, comfort, and health. Happy trails!