Summer 2021: Nantucket Island
by B. Ready Travel Staff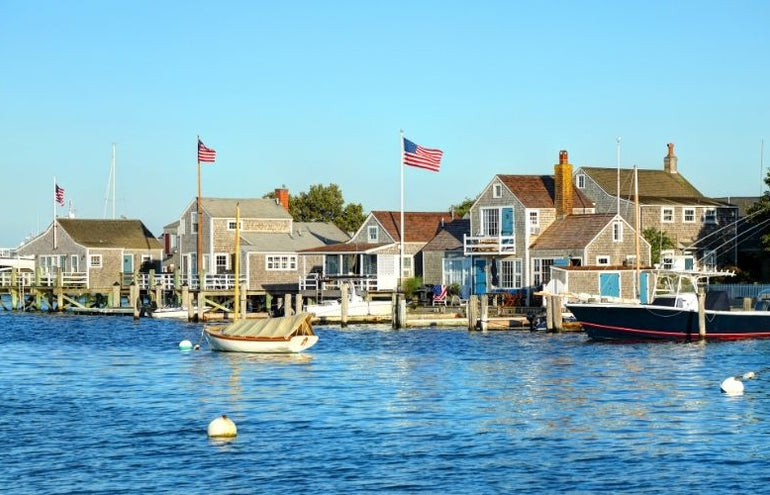 Jun
2021
"I can almost smell the clean salty breeze on the ferry to Nantucket!" you think subconsciously as you make vacation check lists for a long overdue trip to Nantucket Island. With travel restrictions due to COVID-19 lifting and vaccinations a reality, the time to plan safe summer travel is here. Can you envision a return to New England summer vacation this year; slow down and step back in time to a place void of traffic lights and highways, surrounded by pristine beaches, and full of charming history? Yup, we can too!
The picturesque island of Nantucket is tiny but perfect at 14 miles long, 3.5 miles wide, with 110 miles of beautiful coastline to enjoy. The ideal summer travel place for a romantic getaway or for the annual family vacation, Nantucket is the place for summer relaxing, celebrating life, immersing in history and communing with nature.
Prepare your travel safety kit with the essentials and read on for some vacation inspiration.
Getting there: how to travel to Nantucket this summer
The name Nantucket is adopted from a similar Algonquin name meaning "land far away." Journeying to Nantucket Island this summer or fall will be a wonderful experience. Nantucket's is about 26 miles from the mainland and is closest to Hyannis, MA, located in southern portion of Cape Cod. A traditional steamship ferry from Hyannis takes about 2 hours and 15 minutes. Highspeed ferries like the M/V Iyanough make the trip from Hyannis in an hour. Both types of ferries include comfortable seating with food and beverage services. Other ferry terminals in Massachusetts with similar or slightly longer trips times are located in Woods Hole, Vineyard Haven, Oak Bluffs, New Bedford, and Harwich Port. A highspeed ferry out of New York City is just over a 6-hour trip. Some ferries have vehicle transportation availability. Another option is to rent a car after arriving on the island. Having a car is not required through, as much of the island is bicycle and pedestrian friendly.
Several commercial airlines fly directly to Nantucket from states including Massachusetts, New York, Rhode Island, North Carolina, Pennsylvania, Washington DC, and Illinois. Smaller aircrafts only fly in and out of the Nantucket Memorial Airport, usually with a 100-person capacity or less.
Classic Nantucket accommodations
The quintessential Nantucket accommodation is a historic house that is 2 or 3 stories with a weathered grey shingled façade. This intimate New England lodging vibe is akin to staying at a bed and breakfast (B&B). Nantucket has a wonderful selection of hotels within the downtown area. This is a fabulous option for stepping out each day onto cobblestone streets within short walking distance to numerous attractions. One lovely option is the historic Union Street Inn with 12 exquisite rooms— each a showpiece of unique character and luxurious attention to detail. The landmark Jared Coffin House located in the historic downtown offers a graceful balance of elegance and comfort. With room sizes from single to suite, this exceptional location lavishly takes care of it all.
For those preferring to be steps from the water, a beach hotel within the Coskata-Coatue Wildlife Refuge in the northern peninsula is an ideal choice. The newly renovated Wauwinet Inn carefully preserves the seaside refuges' 1875 historic charm while blending sophisticated décor, prime amenities, and pristine views of private beach and garden from every room and cottage. The Wauwinet Inn is also home to one of the country's most acclaimed restaurant; Toppers, that emphasizes local produce and boat-to-table seafood.
A resort-style accommodation that is an idyllic fit for families is The Harborview Nantucket. Each cottage has panoramic views of the harbor, 1-4 bedrooms, a living room, fireplace, dining room, and kitchen with a fully stocked pantry. 
SAVE 10% now on all travel packs!
Join our Electronic Travel Mag
mail list and we'll send you a coupon good for
any travel packs.
Nantucket seafaring and whaling history
Nantucket's whaling history goes back to the 1600's. At one time the island was known as the "whaling capital of the world." The Whaling Museum has thousands of works of arts, artifacts, and treasures devoted to this rich history. Other unique historical sites on the island include the Oldest House built in 1686, The Old Mill that to this day still grinds corn as the longest continuously operating windmill in the country, the Quaker Meeting House, The Old Goal, or jail, and so much more. The Brant Point Light Station was a navigational aide built during the 1740's whaling boom. Rebuilt 9 times, this 26-foot-tall wood tower is accessible to the public and still relied on for nautical navigation. To sample many of the special historic spots, consider hopping aboard an hour-long narrated bus tour with Nantucket Island Tours for a great way to get orientated and explore the scenic island.
Immerse in the island nature on Nantucket
The Nantucket Conservation Foundation preserves nearly 1/3 of the island, or about 9,000 acres made up of beaches, dunes, salt marshes, grasslands, coastal forests, historic farms, and one of the oldest and largest cranberry bogs in existence. These areas are open to the public and have miles of hiking trails to explore. The south shore of Nantucket has the best waves for surfing with easy access from Madaquecham, Cisco, Nobadeer, and Madaket beaches. To see grey and harbor seals feeding in the Great Point riptide, check out the Coskata-Coatue Wildlife Refuge. Prime spots to bring the kids, collect seashells, and play in the tide pools are Brant Point and Children's Beach on the northside of Nantucket Harbor.
The Nantucket culinary scene
The foundation of the culinary scene in Nantucket is fresh, local seafood. A plethora of delicious dining opportunities await.
Here are just a few favorite Nantucket eateries: Enjoy a delectable award-winning meal overlooking the Nantucket Harbor at Straight Wharf Restaurant. Celebrating more than six decades, this restaurant welcomes diners with a laid-back nautical vibe, crafty cocktails, and seasonal local menu options that change daily. To mark a special occasion, Company of the Cauldron is the place to be. Moving into their 47th year, the dinner party atmosphere of this restaurant includes a new menu each night. In classic prix fixe format, Chef Keller employs French techniques with sustainably sourced and farm-to-table ingredients. Experience the "Pair and Share" philosophy of Keepers Restaurant, where guests pair menu items together and sharing is encouraged. A local favorite open year-round, this is a great option to find something for everyone with traditional, vegetarian, and gluten free options, along with Asian, Caribbean, and Latin fusion plates.
Nantucket nightlife
There is something for everyone at night in Nantucket. Plan to attend a movie or performance at the 190-year-old Nantucket Dreamland Theater. Lovingly renovated as a LEED certified state-of-the-art complex, the theater website states its goal is to bring "people together to share experiences through film, art, culture, and learning" by providing programs for all ages. For a casual evening out on the town, several bars and restaurants like The Chicken Box and The Muse host local and visiting live music shows most nights.
At Cisco Brewers, guests take a behind the scenes look at what goes into making their world-class beer, wine, and spirits. While sampling local drink specialties and accompanying local seafood fare, this is a great location for live nightly entertainment. For a different evening scene, under the guidance of professional astronomers, discover the mysteries of the impressive night sky over Nantucket at the Loines Observatory. Be sure to check out their antique 8-inch Alvan Clark telescope and their 24-inch research telescope.
Safe summer travel 2021
Summer travel trends for 2021 include splurging for a luxury getaway, selecting the all-inclusive accommodation or vacation home, and making reservations well in advance. Trends also include safety measures like donning our masks when inside and near others, choosing outdoor activities, and packing the travel safety kit and opting for a road trip or flight within the United States. New England travel is an excellent way to check all the boxes and make that dream vacation in idyllic Nantucket a reality. Let B. Ready's curated travel and wellness packs keep you adventuring in style, safely.