Is it Safe to Fly Right Now?
by B. Ready Travel Staff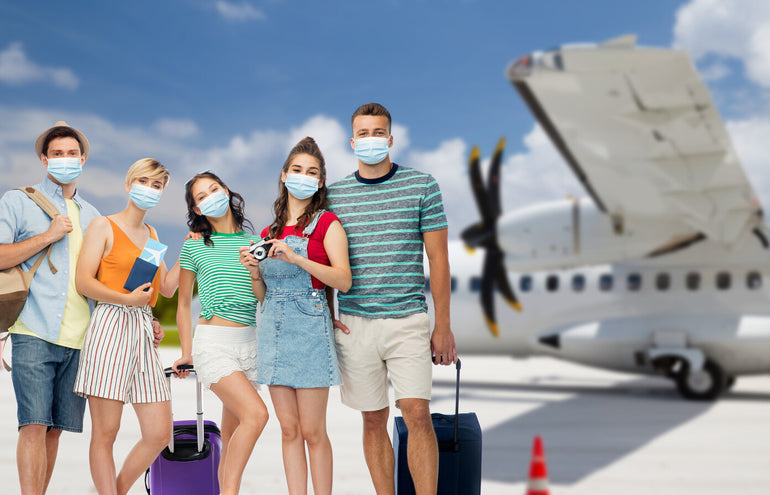 Oct
2020
"We are going on vacation!" you whisper happily to yourself. After months of safer at home and social distancing, you are booking airline tickets for a trip you have long fantasized about. We know, half the fun of trip is planning. Devouring travel mags for that idyllic spot to unwind and recharge, pouring over blogs written by influencers, experts and gypsy-spirited explorers who have scribed pearls of wisdom about the places you want to visit. And now, you are going! After maybe a little shopping for the trip. 
For this vacation though it is more important than ever to take personal safety precautions when we leave our homes. This is especially true for planning travel, both regional and national. Even the most seasoned travelers are a little apprehensive about using air travel for their long-awaited vacations or important business trips. Following several months of travel warnings and stay-at-home requirements due to the 2019 novel coronavirus and spread of COVID-19, phased re-openings are underway and Americans are thirsty to enjoy travel adventures.
Eager sojourners are wondering, "What will air travel look like as we settle into the new normal in the wake of the coronavirus?"
What travel safety measures will airlines be implementing?
Since each airline has its own variation of policies and practices, travelers should refer to airlines' websites or policies for each. Be assured, all airlines are taking steps to increase passenger safety during flights. Overall, there are several safety measures that have been implemented industry wide. Some airlines are decreasing their passenger capacity to provide for social distancing. Crews are carefully disinfecting aircrafts between flights using various methods including "fogging" disinfectants, ultraviolet light, and topical disinfectants. Airline crews―both in terminals and on flights―are required to wear face masks and have simplified services to minimize their passenger interactions.
Passengers protocols include the requirement of wearing face coverings or masks on flights and in terminals. In-flight food and beverages have been eliminated on some shorter flights, and for other flights food and beverages are now prepackaged and sealed. Additionally, some airlines no longer serve alcohol, or limit alcohol service, to reduce interactions between flight attendants and passengers, particularly on shorter flights.
Safety measures including flexible rebooking
It is now easier to change or cancel your flight and often avoid the associated fees. Flexible rebooking and flight cancellation options are more widely available to ensure people who feel unwell do not travel. Some airports are using thermal cameras to conduct body temperature checks as an added safety measure. Many airports no longer allow non-travelers inside the terminals, so "goodbyes" and "hellos" will now take place outside the terminals.
SAVE 10% now on all travel packs!
Join our Electronic Travel Mag
mail list and we'll send you a coupon good for
any travel packs.
Safety pack essentials
What's in your safety pack? While preparing for your upcoming trip, these important travel safety tips can help ensure a safer flight and more pleasant journey:
Pack at least one, but preferably two or more reusable cloth face masks that fit your face well. Using a face mask correctly is a crucial step to stay safe. Review the checklist below for face mask best practices.
Hand sanitizer with at least 60% alcohol content. According to the Transportation Security Administration (TSA) website, "TSA is allowing one liquid hand sanitizer container up to 12 ounces per passenger in carry-on bags until further notice."
Disinfectant wipes are essential for cleaning personal items as well as wiping down surfaces you may touch such as meal trays, arm rests, and lav doors.
Have your travel safety pack items handy and easy to reach, so there is no need to dig around in a bag to find them.
Navigating the airport terminal safely
At airports, travelers should stay mindful of maintaining a safe social distance of 6 feet (2m) from people not in their group. Many savvy passengers wear glasses during air travel to help prevent aerosols from getting in their eyes. Plastic face shields are even more effective protection for eyes.
Most terminals have implemented touchless check-in and boarding via mobile phone. If making a purchase at the airport, opting for contactless payment is an increasingly available service. Or you can avoid making purchases entirely by packing a fun travel lunch and snacks. This can be  a healthier alternative and the money saved can be put to fun use at your vacation destination.
When emptying pockets in the security line, place items in a bag or carry-on rather than placing them directly in the tray to avoid potential contamination. Easily accessible disinfectant wipes ensure you can wipe items down after you have navigated security.
Safety during the flight
Upon boarding the aircraft and finding your seat, disinfectant wipes will come in handy again to sanitize all surfaces in the seated area including the armrests, tray table, touch screen or tv remote, light switches, and air vent.
B. Ready Travel Safety Tip: By opening the air vent all the way so it blows directly on you, the turbulence caused by the filtered air coming out of the vent will push the non-filtered cabin air away. Most commercial airplanes have HEPA filters that remove 99.9% of particles in the air, so the air coming out of the vent has been purified. Although it may be preferable to avoid using the lavatory while on the plane, if you do, rather than directly touching the door, faucet, and handle, use a paper towel, tissue, or disinfecting wipe. To minimize taking your mask off, it may be preferred to avoid eating and drinking while on the plane. Disposable Eco Gloves, made of compostable earth-friendly materials are a popular choice for maneuvering through high-touch areas.
Safe arrival at your destination
At last the destination is in sight; now what? Car rental services are also included on the list of industries that have stepped up their disinfection service protocols. Travelers can investigate the specific disinfection policies and protocols of each car rental company on their websites. If staying at a hotel, there may be shuttle services available. If planning to use a ride-hailing service, it is preferable to avoid sitting in the front seat near the driver. Consider handling your own bags during pickup and drop-off. Disinfectant wipes, gloves and hand sanitizer may be used when you must touch frequently handled surfaces. When using public transportation, passengers can stay safer by maintaining social distancing, wearing a mask, and using hand sanitizer and hand washing after reaching their destination.
Safe travel is in the pack
Careful safety and wellness initiatives will ensure that air travel will be as safe as possible for you and your family. Whether camping in some of America's beloved national parks or exploring cool cities far from home, you want to be protected. Travelers can be in control of their wellness while away from home with a collection of protective products, thoughtfully sourced and selected for safety, sanitation, sun and insect, and virus prevention and protection. Curated air safety travel products like the B. Ready travel packs will help safeguard the health of you and your family during air travel, at lodging accommodations, and while adventuring to destinations unknown or revisiting favorite places and favorite people.
The World Health Organization (WHO) has provided instructions for wearing and removing
face coverings and masks.
"Masks are effective only when used in combination with frequent hand-cleaning
with alcohol-based hand rub or soap and water."  -WHO.int
Before putting on a mask, clean hands with alcohol-based hand rub or soap and water.
Cover mouth and nose with mask and make sure there are no gaps between your face and the mask.
Avoid touching the mask while using it. If you do, clean your hands with alcohol-based hand rub or soap and water.
Replace the mask with a new one as soon as it is damp and do not re-use single-use masks.
To remove the mask: remove it from behind (do not touch the front of mask); discard immediately in a closed bin; clean hands with alcohol-based hand rub or soap and water.