Is it Safe to Stay at Hotels in the US?
by B. Ready Wellness Editor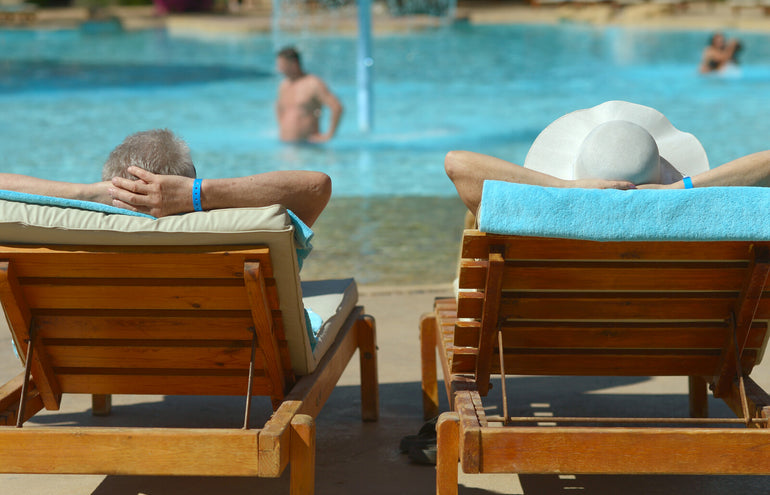 Nov
2020
"I can't wait for a spa treatment," you think, smiling to yourself as you imagine your stay in the sweet boutique hotel you have reserved for your vacation. It's long overdue. You. Are. So. Excited.  
For months you, your family, and friends have stayed home to be safer in the wake of the novel coronavirus. As travel restrictions ease across the nation, many Americans are eager to be on the move. New adventures await whether you choose to discover them close to home or across the country. In this new normal era choosing a travel accommodation can be a challenge. You want to make the safest choices for a comfortable and relaxing trip. Read on to learn what can travelers like you can do to B. Ready to travel safely and stay safe when staying at hotels, Airbnb and other vacation accommodations.
Hotel industry protocols to prevent the spread Covid-19
 Across the hospitality industry hotels, resorts, motels, country inns, and lodges have all taken steps to prioritize guest and staff safety in response to the 2019 novel coronavirus. Safety mandates differ between states and counties in the United States, which can impact a business's policy. In some instances, business are relying on their own thoughtful judgement beyond just what is mandated. The disinfecting protocols and social distancing measures taken at smaller resorts and mom-and-pop properties may vary widely. Most chains though have organized policies set in place that comply with municipal, state, and federal guidelines. Numerous hotel chains have implemented their own hygiene brand, developed in partnership with prominent health organizations and cleaning product companies. Hilton, for example has partnered with Reckitt Benckiser the maker of Lysol and the Mayo Clinic, forming "Hilton Clean Stay", and Four Seasons Hotels and Resorts implemented "Lead with Care" in collaboration with Johns Hopkins Medicine International.
Hotel safety and deciding where to stay
Before booking an accommodation a bit of research can help create the trip you have been dreaming of and one where you feel safe.
Some states presently have a required quarantine period for visitors, and a few require a negative coronavirus test 72 hours prior to arrival. Be sure to research the current rules of the area you want to visit.
Seek vacation accommodations and business hotels with ample outdoor space, such as private balconies or patios, extensive grounds, pool or beach areas, and outdoor restaurant seating for more social distancing options during your stay.
Do you have the option to take the steps and avoid using an elevator? Opting for a property with optional outside entrances can also minimize time spent in shared public spaces.
Learn the hotel's policy for guests wearing masks or face coverings. Be sure it aligns with what make you most comfortable.
Questions for your chosen hotel about safety protocols
Before reserving a room, gain peace of mind by visiting the hotel website or contacting the property directly to learn about safety measures and protocols.
What are the protocols in place for staff sanitation and virus prevention? Ask if the staff will wear face covering and/or gloves and if they have access to frequent hand washing and needed changes of uniforms or attire.
Learn if documentation is available that lists the procedures for guest room and common area sanitation and disinfection. And what cleaning products are used; are they EPA-registered disinfectants?
You may want to understand what the current and maximum occupancy rate is at the hotel. Some are not yet booking to capacity.
Ask what the protocol is if a guest becomes ill and if it includes temporarily removing that guest's room from available occupancy for cleaning and disinfecting.
Inquire about HVAC system's efficacy. Ensure that bathrooms have exhaust fans and ask if the HVAC system is regularly maintained and utilizes high-efficiency particulate air (HEPA) filters or MERV-rated 13 or 14 filters, which are like the N-95 masks of air filters.
SAVE 10% now on all travel packs!
Join our Electronic Travel Mag 
mail list and we'll send you a coupon good for 
any travel packs.
What to expect when you arrive at your hotel
Upon arrival at your accommodations, you should have the option of contact-free check-in which can be completed via mobile phone. This option usually extends to room service transactions and check-out also. Expect that the lobby and other indoor public areas have been modified to maintain social distancing. The chairs may be spaced out or some of them blocked off and there may be floor decals spaced 6 feet apart for the front desk line. Look for signage reminding guests to maintain social distancing measures, to follow handwashing and hand sanitizer recommendations, and face covering protocols. There should be hand sanitizing stations at the entrance, the front desk areas, and preferably more throughout the public areas, including by the elevator. Complimentary services such as beverage and snack service in the lobby may be limited or removed. Pool access will likely be modified to maintain social distancing or closed entirely. Housekeeping services during your stay are likely by request only with limited turndown services. Throw pillows could be removed and expect that items such as fresh towels and sheets might be left outside of the room. Beach and other public spaces will probably have social distancing protocols in place as well.
Keep in mind the hotel industry has been deeply impacted by the novel coronavirus pandemic. Their success now is tied to their ability to keep guests and staff safe. Most properties are working diligently to provide guests the feeling of safety they need with the vacation experience they desire.
Before or upon arrival you can:
Confirm with the front desk staff or concierge what housekeeping arrangements are in place. Ask to modify these arrangements to meet your comfort level. Hotels should be happy to oblige.
When entering your room, visually check that surfaces are clean, and vents are dust free.
Use disinfectant wipes and/or spray to clean all high touch areas including doorknobs, light switches, countertops, inside and outside of the fridge, tables, desks, phones, remote controls, toilets, sinks, faucets, and any other flat surfaces where mist from a cough could settle in the room.
Wash plates, glasses, cups, and silverware (other than prewrapped plastic items) before using them.
Wear a facial covering or mask anytime you leave the room until you are in an area where you are safely distanced from others outside your travel companions.
Pools: Social distancing is still an important factor in the pool. Choose lounge areas with this in mind.
Dining: to minimize risks associated with indoor spaces, like busy restaurants, consider dining alfresco. Or, choose room service for some of your meals. Find a local market and pick up interesting provisions for a picnic in a park, at the beach, or on your balcony.
Consider enjoying indoor public areas at resorts such as lounges, libraries, and lobbies at off-peak times.
Wellness away from home - prioritizing safety at your hotel
Be sure to have safety and disinfecting items on hand, like those in a curated B. Ready travel pack containing essential wellness products such as hand sanitizer, disinfectant wipes, disinfectant spray, and face masks, along with other customized travel goods such as sunscreen, travel towels and specialty sundries. Taking good care to plan thoughtfully in advance and to prioritize a few safety steps will help make your stay at accommodations away from home exactly the experience you hope for.
Consider options for safer travel accommodations – Airbnb and vacation rental homes
If considering alternate types of accommodations, Airbnb rentals and vacation rental homes may be a safer option. One advantage is that there is minimal―if any―person-to-person contact with staff and other guests. Many Airbnb locations provide self-check-in using a key lockbox, smartlock, or keypad. Hosts are highlighted on the Airbnb website for their commitment to Airbnb's new cleaning protocol. This new protocol includes a 72-hour buffer between visitors. Hosts must review and agree to a 5-step cleaning process handbook and a disinfectant cleaning supplies list, then pass a quiz, and make a cleaning commitment to this protocol. Vacation rental websites also feature detailed cleaning and safety information along with booking, housekeeping, and check in/check out protocols.
How to stay safe staying in a private home
If vacationing as a guest in a private home, consider both groups agreeing to quarantine for two weeks prior to your arrival. If unable to all quarantine beforehand, wearing face masks inside, maintaining social distancing of 6 feet, cleaning frequently touched surfaces, and staying in a separate part of the house with en suite bath will help keep you all safer by reducing the risk of viral spread.
Travel safely to hidden gems off the beaten path
Consider vacationing somewhere other than the usual crowded places such as cities and tourist attractions like theme parks and beaches. Now is a fabulous time to get off the beaten path and explore all the hidden gems our country has to offer like lesser known parks, nature preserves, and charming historic towns. A quick internet search brings up dozens of best-kept secret kinds of vacation destinations. At B. Ready, we love off-season and shoulder seasons at popular destinations for the space and quieter atmosphere.
Hotel safety – B. Ready for your best and safest vacation possible
Sojourners can have a fantastic and safe getaway by keeping a few things in mind. As you pack your bags and check off the to-do list, remember your B. Ready travel pack. Be in control of your personal safety and wellness while away from home with a collection of protective products, thoughtfully sourced and selected for safety, sanitation, virus prevention, sun care and cures for overindulgence at that chocolatier or wine bar you discovered on your afternoon stroll. Curated safety travel packs like the Voyager travel pack will help protect you and your family at lodging accommodations, from chic city hotels to quaint country inns to remote campsites far from home.