The Natural Superpowers & Immune Boost of Elderberry
by B. Ready Wellness Editor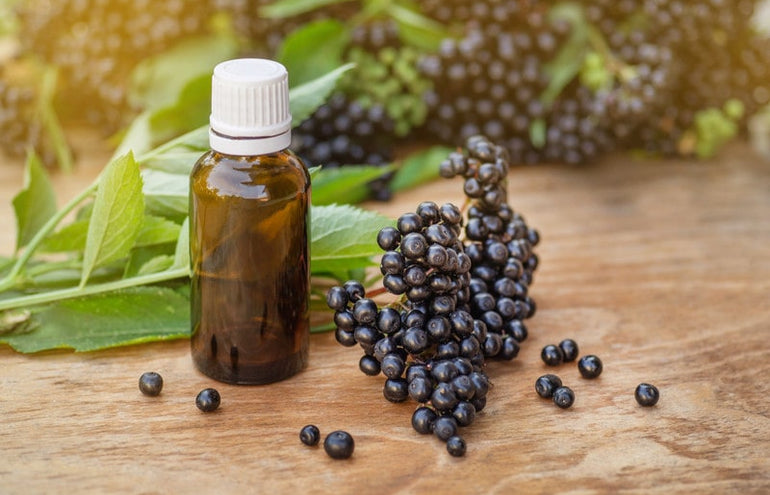 Jan
2021
Elderberry for travel wellness and immune support
"We are all staying healthy the whole trip," you muse to yourself as you tuck elderberry lollipops into your tote. Considered one of the most healing plants in the world, elderberry has been celebrated for its health and medicinal properties since at least 400 BC, when Hippocrates―hailed as the "father of medicine" referred to the elder tree as his "medicine chest."

In this January edition of our B. Ready Travel Mag ―the first of 2021―we explore Elderberry. Read on to learn about the benefits of this celebrated superfood. Whether for immunity boosting at home or for safer travel, elderberry is rife with goodness making it a wonderful complement to your personal wellness cache.

Steeped in tradition, commonly used in ancient rituals and highly respected by healers, the elderberry has for centuries been considered powerful—even magical. Long ago, parts of the elderberry plant were often carried or hung above doorways for protection. What our ancestors knew then about the healing powers of this potent plant is today backed by myriad science and research. What makes the elderberry valued for health and healing? Learn why it is a welcome addition to every travel safety pack, and discover its potential to increase wellness in your life.


The multi-symptom healing power of elderberry
Elderberries come from the Sambucus Tree (Sambucus nigra). Native to Europe and North America, this elegant shrub has bright green leaves and delicate clusters of white flowers that transform into bunches of blue or black berries at summer's end. Traditionally used for the prevention and treatment of colds and flus, elderberry also provides beneficial support for countless health issues including chronic fatigue syndrome, fever, depression, epilepsy, hay fever, constipation, headaches, joint and muscle pain, upper respiratory and sinus infections, sciatica, kidney problems, and viral illnesses. Research shows it may also help detoxify and improve liver function. Elderberry acts as a diuretic, and even regulates glucose and insulin levels within the pancreas. By stimulating glucose metabolism, elderberry can help lower blood sugar levels.
Prevent and shorten the duration of respiratory symptoms and viruses
Elderberry has been shown to effectively decrease the intensity and shorten the duration of existing cold, flu, and virus symptoms. "Elderberry has a respiratory impact, mainly— it slows the replication of the virus, and because of that people may get less sick," Marc Goldstein, MD, chief of allergy and immunology at Pennsylvania Hospital and member of the advisory board of the health-care company, Curist, said in a recent women's health article. Coughs, sinus congestion, and fevers may all be eased by the healing properties of this petite fruit.
SAVE 10% now on all travel packs!
Join our Electronic Travel Mag
mail list and we'll send you a coupon good for
any travel packs.
Recent scientific findings suggest daily consumption of elderberry may provide effective virus protection. The scientific research article "Detection of expression of influenza virus receptors in tissues of BALB/c mice by histochemistry," published in the US National Library of Medicine presents evidence of elderberry's ability to provide protection for the body against dangerous viruses. Most doctors agree elderberry is safe to use daily, as this medicinal berry does not overburden the immune system or create imbalances in the gastrointestinal system. If choosing to take as a daily preventative, check first that other ingredients included in an elderberry product are also safe to take for an extended period, as some components like zinc should not be taken in high doses for more than a week.
Benefits of elderberry during travel
A recent study published in the US National Library of Medicine titled "Elderberry Supplementation Reduces Cold Duration and Symptoms in Air-Travellers: A Randomized, Double-Blind Placebo-Controlled Clinical Trial" found that the results of ingesting elderberry shortly before, during, and after air travel "suggest a significant reduction of cold duration and severity in air travelers."
Since the benefits of elderberry stretch beyond immune support, travelers may additionally benefit from the uplifting yet calming effects of the berry, as well its ability to facilitate a more comfortable travel experience by easing body aches and promoting regularity.
The numerous antioxidant-rich phytonutrients of this tiny berry
Elderberries contain numerous antioxidant phytonutrients including carotenoids, phytosterols, and polyphenols which have powerful anti-inflammatory and immune boosting benefits. These phytonutrients are the plant chemicals that give fruits and vegetables their bright colors. While phytonutrients provide protection for the plant, they also benefit the individual that consumes it.
The power of elderberry's carotenoids, phytosterols, and polyphenols
Carotenoids boost the immune system, improve eye health, and reduce the risk for certain diseases and cancers. Phytosterols may lower the risk of stomach, breast, lung, and ovarian cancers and help lower cholesterol. Polyphenols are associated with regulating blood pressure and blood sugar in addition to improving brain function and skin health.

One type of polyphenol is the flavonoid. Elderberries have several antioxidant-rich flavonoids including quercetin, kaempferol, anthocyanin, and isorhamnetin, which all aide in the treatment of lung conditions like asthma and bronchitis. Anthocyanin specifically has potent antiviral properties, may also prevent, or reduce some types of infections, and has anticarcinogenic properties that can both inhibit and fight cancer. Other antioxidants found in elderberries include phenolic acids, which protect cells and reduce harm caused by oxidative stress in the body.
Elderberry's healing triterpenes
The triterpenes found in elderberries are a particular type of terpene that inhibits the growth of numerous types of cancer. Triterpenes also decrease the body's inflammatory responses and can regulate healthy immune system functions.
A plethora of vitamins, minerals, and trace elements are found in the berry
This superfood contains vitamins A, B1, B2, B6, B9, C and E, trace elements including Cu, Zn, Fe, and the minerals K, Ca, and Mg. The elderberry fruit may be small and unassuming, but its health properties are mega. This nutrient-dense powerhouse benefits numerous systems of the body and has significant healing and preventative potential.
Options for consuming immune boosting elderberry
Elderberry products come in many forms, and primarily it is the berry and flower that are consumed. This superfood may be found in syrups, lozenges, teas, gummies, pills, and even jams and wine. It is safest to purchase premade and packaged products, as consuming the unripe or uncooked fruit can sometimes cause stomach upset. Other parts of the plant including the seeds, roots, leaves, branches, and twigs should not be eaten as they contain a toxin called glycoside.

A favorite way for kids and adults to gain the benefits of this magical berry is by enjoying an Immune Boosting Lollipop. With over 3200 mg of wellness enhancing elderberry fruit per pop, these lollies also contain calming chamomile and additional immune supporting herbal extracts, making them the perfect addition to your wellness pack for travel.
B. Ready to Travel Safely
Travel generally adds additional stress to the body caused by inadequate sleep, dietary changes, increased anxiety, and a higher probability of exposure to pathogens. For travel wellness, include health support items like our delicious Immune Boosting Lollipops found in our  B. Ready Shop, Motion Ease Aromatherapy Inhalers and super soft Three-ply Fabric Face Masks in your wellness pack for travel to strengthen the body and help offset the demands of being on the go. For more travel wellness tips, check out our wellness blog Healthy Travel: Boost Your Immune System.
B. Safe with our thoughtfully-sourced travel safety packs…wherever you may roam.