Is it Safe to Take a Road Trip in the US?
by B. Ready Travel Staff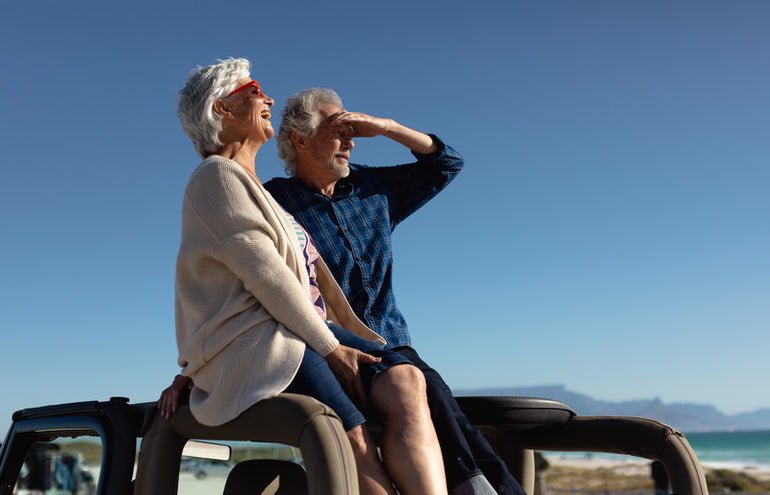 Nov
2020
"Put down the convertible top, honey. We're hitting the road," you exclaim to your sweetheart after dinner. If they start singing the lyrics to "Pink Cadillac," you know a plan is afoot for an adventure. Now is a fantastic time to explore nearby places and some farther away that you have not yet discovered. The era of the road trip has returned. Embrace comfort in the safety bubble that is your car during the coronavirus pandemic. 
Are you wondering how to safely hit the road for your next great American adventure or just a weekend away? Read on for our travel safety and wellness tips for car travel.
Day trips are a respite from the confines of social distancing measures still in place while providing the comfort and safety of returning home at night. And overnights stay can be safe too—if masks are worn in public areas and social distancing is maintained. For peace of mind, review the website of an overnight accommodation in advance to confirm you are comfortable with their Covid-19 safety policies, sanitation practices, air filtration system efficiency, and to confirm they adhere to public health guidelines and recommendations.
A key aspect in having a safe road trip is prioritizing socially distancing for all trip details. Arijit Nandi, an associate professor of epidemiology at McGill University in Montreal recently suggests in a New York Times article that travelers consider this: "Is there any part of the trip where I'm going to be in an enclosed space with other people, or even in an outdoor space where I can't socially distance? If I can avoid those, I'd feel pretty good." So, break out the cooler and plan a picnic; it's time for the cool old retro vibe of car travel.
Stay healthy on your road trip
If leaving the safety of your car, where you are passing through can be as significant as the destination. Travel restrictions and COVID-19 caseloads vary from state-to-state and are changing regularly, so it is important to stay up to date.
We already know to wear seatbelts and not text while driving, and the 2019 novel coronavirus brings additional safety considerations. If protective precautions are required between passengers within the same vehicle, all individuals should wear a facial covering or mask while in the car. Sit as far apart as possible. Have the windows down, or if the weather is sweltering, keep your ac on the fresh air vent setting.
The shorter the drive, the less stops required for gas, restrooms, food, and overnight stays. Weigh in that each stop will require wearing a face covering or mask, wiping down surfaces, social distancing, and cleaning hands. A quick internet search can often locate nearby full-service gas stations for added safety. Travelers that purchase food, drinks, and supplies ahead of time will minimize trips to the store. Choose drive-throughs and curb-side pickup as an alternative to dining inside. Dining alfresco and at off-peak times are a safer option when at restaurants.
SAVE 10% now on all travel packs!
Join our Electronic Travel Mag
mail list and we'll send you a coupon good for
any travel packs.
Car rental safety
Some car rental companies including Enterprise offer a low-touch rental process with advance check-in. Look for a rental that includes a multi-point cleaning and sanitization process such as those provided by Enterprise and Hertz. It is still a good idea to carry disinfectant wipes and clean all surfaces you may come into contact with.
Camping safety
Camping is having a full force comeback in 2020. There is a camping style for almost everyone- in a tent from your car, backpacking with a hammock tent, in an RV or pop-up camper, or even by "glamping" it up in luxury. Whichever way you choose, the allure of sleeping under the stars is further supported by ticking off the boxes on the pandemic safety-checklist— while still having a fabulous vacation. Seek out parks and campsites that are off the beaten path, as they are the most likely to have lower visitation numbers.
Destination safety considerations
Confirm that you are comfortable with the safety precautions a town or county you are considering visiting is taking. For example, is social distancing enforced and are people required to wear masks, and what is the transmission rate where you are considering visiting? Look for a vacation destination that has a low and decreasing occurrence of Covid-19 cases. Somewhere that is less populated where you can avoid the crowds is a less risky option. Check your desired destination's travel requirements and restrictions, as many states require a 14-day quarantine for visitors.
Along with the usual travel items, pack along:
At least one, preferably two or three facial coverings or masks per person
Hand sanitizer
Disinfectant wipes
Depending on the outdoor adventure, essentials in your travel pack may also include:
Sunscreen
Lip balm
A hat
Anti-nausea aromatherapy
Insect repellent
Discover B. Ready Travel Safety Packs
Enjoy the great outdoors safely
Spending time outdoors and in nature is beneficial for both mental and physical health. Being outside has a lower risk of infection. Now is the perfect time for hiking, picnicking, camping, or relaxing at the beach as long as it's not crowded. With a whopping 419 national park sites in the US, a staggering 10,234 state parks, and county parks around many corners, there are abundant possibilities for outdoor exploring and ample opportunities that allow for social distancing naturally.
B. ready for safer travel when you take a road trip
Travel tip: The US is home to countless national parks like Yosemite National Park with thundering waterfalls and rumbling bison. Though our travel safety packs won't protect you from a hungry bear, they will keep you safe from sunburn, bug bites, and pesky germs! B. Ready for safer travel with curated travel packs. B. Ready to explore the open road!