Unique Regional Holiday Traditions
by B. Ready Wellness Editor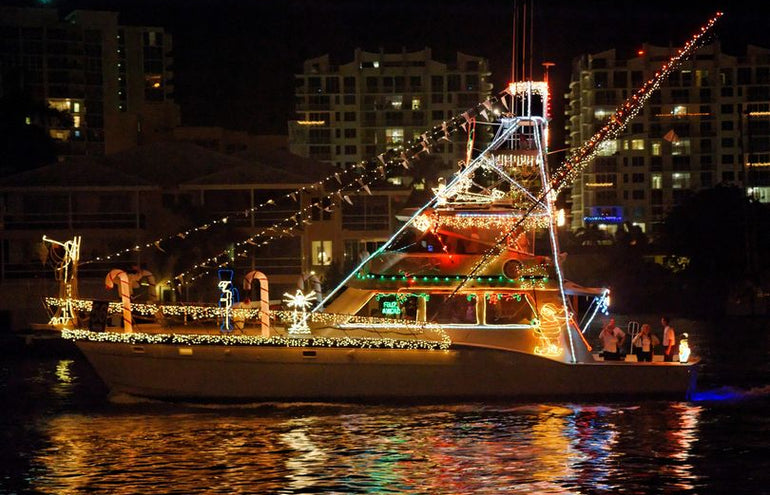 Dec
2020
Celebrating the spirit of decidedly different traditions
"The holidays are here. Pack your bags, Kids, let's be merry and bright!" The holiday season has arrived. Whether you choose to celebrate this time of year with an annual ritual or plan to create a new family tradition, travel safety is a top priority. The United States has so many wonderful and unique ways to celebrate the holidays. Throughout the regions there is something to be found for everyone. So, pack your travel wellness kit and other adventure essentials, and get ready to explore the seasonal wonders the different regions of the US have to offer.
Chandler, Arizona's one of a kind tumbleweed Christmas tree
Most people picture some type of evergreen when visualizing a festive Christmas tree. Not so in the southwestern region of the United States, specifically those celebrating in Chandler, Arizona. Every year since 1957 at the A.J. Chandler Park in historic downtown Chandler, a special tumbleweed Christmas tree is erected to celebrate the holidays. Constructed of about 1,000 individual hand-collected tumbleweeds, this 35-foot-tall "tree" is built over a two-week period. With thousands of bright lights and 65 pounds of glitter, spectators are sure to be dazzled by this display both day and night. Opening day begins with a Christmas parade to kick off the lighting of the tree festival that includes live entertainment, food vendors, and a beer garden. For a safe and socially distanced experience, visitors are encouraged to bring their own picnic blanket and chairs. Children can see Santa safely this year, as Santa, Mrs. Claus, and everyone else will be wearing a facemask. Compliment this holiday celebration with a B. Ready travel safety kit that includes antibacterial hand gel, sanitizing wipes, surface sanitizing spray, and disposable gloves so you spend more time enjoying the sights while knowing you are protected.
Florida boat parades and coastal holiday celebrations
In the mood for a holiday road trip? Cruise down to the southeasternmost state of Florida and experience the state's holiday boat parades. Vessels of all shapes and sizes will be adorned with festive holiday decorations. From now through December 19, spectators have 48 locations to choose from throughout Florida that each host a unique boat parade. Florida coastal parks and restaurants with open air seating along the water's edge are great viewing spots that allow for safe outdoor fun. Some boat parades, like the Jacksonville Light Boat Parade, include a brilliant fireworks display over the water, while others have decorative themes including the Key Largo Boat Parade's Pirates of the Keys theme that highlights the town's fabulous Christmas spirit. Bring an unwrapped children's Christmas gift and donate to Toys for Tots at the Tomoka River Christmas Boat Parade. Be sure to look for Santa arriving by boat to light Dunedin's Christmas tree at the Dunedin Holiday Boat Parade. Arrive early to watch the Mount Dora Christmas Parade, then witness the lighting of 100,000 holiday lights at the Sunset Park town center, before heading down to the docks for the Mount Dora Lighted Boat Parade. Celebrate Hanukkah by joining Holiday on the Harbor at HarborWalk Village in Destin, Florida. Take part in their special menorah lighting ceremony and savor delicious traditional food and live entertainment.

Remember to bring your car safety pack along for the journey to always have a facemask on hand and other safety essentials. The B. Ready Voyager Travel Safety Kit is a perfect option for a fun in the sun holiday boat parade adventure. The travel kit essentials include everything needed for germ-free travel and more with personal health items like luscious broad spectrum coconut sunscreen and SPF piña colada lip balm for effective sun protection, and a road trip first aid travel kit so you are ready for any unexpected bumps or bites.
The world's largest menorah and Hanukkah Lollapalooza in New York City
Whether you fly, drive, or take the train to the northeastern region of the United States, witness the largest menorah lighting allowed by Jewish law at the Manhattan and Brooklyn Grand Army Plazas. The menorahs are 32 feet high, and each weigh about 4,000-pounds. These holiday symbols are an impressive way to welcome the year's Jewish Festival of Lights. Enjoy an outdoor concert prior to the first night of the menorah lighting, along with music, gifts, and traditional potato latkes each night of the festival. Grab your scarves, hats, and facemasks to join in on the fun.

Stop by the B'ShERT community on the third night of Hanukkah, December 12, for the Havdalah and third night candle lighting, followed by a "choose your own adventure" at Hanukkah Lollapalooza. The fun family times include songs and stories, Hanukkah Bingo, cocktails and mocktails, weaving crafts, dreidel games, and edible menorah crafts.
SAVE 10% now on all travel packs!
Join our Electronic Travel Mag
mail list and we'll send you a coupon good for
any travel packs.
Head south for black-eyed peas
New Year's Day in the southeast region of the US would not be complete without partaking in a wholesome dish of black-eyed peas. This flavorful legume, according to Southern folklore, is said to bring good luck and prosperity for the coming year. The ritual is thought to have originated in the state of Georgia during the American Civil War. Back then black-eyed peas were considered lowly food for livestock; therefore, Union army soldiers left the fields of black-eyed peas in favor of other crops. During the harsh winter that followed, Confederate soldiers survived by eating the black-eyed peas that had been left behind, thereby making the black-eyed pea a symbol of good luck and prosperity for the people of the south.

The black-eyed peas tradition has since evolved, and food pairings have been added that are said to bring certain embellished fortunes. Adding leafy greens to black-eyed peas represents prosperity with money while adding cornbread is said to bring gold. Eating at least 365 black-eyed peas will help the consumer to have good luck every day of the year.
Hawaiian New Year's Mochi pounding and sashimi
For Hawaiians, Mochi pounding is as traditional on New Year's as champagne and counting down the clock to midnight is in New York City. The word Mochi is adapted from the Japanese word meaning "to hold or have" and the tradition was originally brought to Hawaii from Japanese plantation workers in the 19th century. The ritual involves soaking white rice for many days followed by a complicated dance where two individuals strike the doughy mass with alternate swings from mallets while a third person carefully kneads the dough between swings. The rice dough is then shaped into discs and offered on an alter with an orange "to hold or have" good fortune and prosperity in the coming year. Today, Mochi rice cakes are still made in homes and restaurants and are even found in most convenience stores.
Another delicious Hawaiian New Year's tradition with Japanese roots is savoring sashimi on December 31st to bring prosperity. If partaking in this tradition on New Year's Eve in Hawaii, expect to pay significantly more for sashimi-grade ahi tuna on this special night. It will be worth it! If planning a trip to the Pacific region of the US to the state of Hawaii for a tropical New Year's celebration, be sure to check out the article Is it Safe to Fly Right now  for tips about wellness and air travel safety, and what our B. Ready Travel Gurus suggest to tuck in your airplane travel kit.
B. Ready for the Holidays
Whichever US region you choose to sojourn to, you can be sure to discover some special and unique traditions. Maybe some you will weave into your own celebrations for years to come. To ease the worries of illness keep personal wellness at its peak so you can enjoy all the fun the season has to offer.  At B. Ready Travel Safety we have custom curated travel safety packs for whatever adventure your holiday season holds. B. inspired this holiday season whether your journey is someplace snowy and magical or to a spot where palm trees blow softly in the gentle winter breeze. B. Ready for your next travel journey. We'll be with you every step of the way!