Is it Safe to Take a Vacation Right Now?
by B. Ready Travel Staff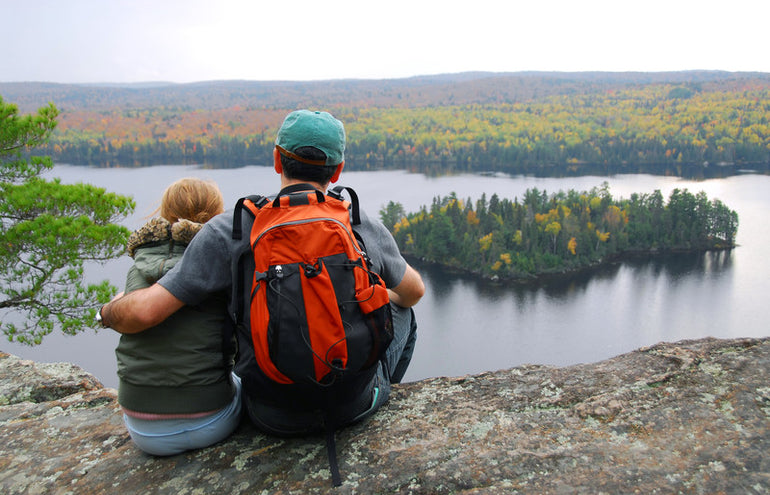 Oct
2020
"We could all use a vacation somewhere special now," you think watching your children play in the yard  after committedly staying home since early spring due to the new normal created by the coronavirus. Taking a break from several months of social distancing at home is a valuable element of self-care. Feeling the joy of being in a new place, the fun of breaking away from the monotony of seeing the same walls all day every day, and the feeling of peace and relaxation that comes from taking a hard-earned vacation can be an inspiring and important pick-me-up. Along with many aspects of day to day life, travel has changed too. For those willing to put in a bit of research, careful planning, and added safety protocols, it can be well worthwhile to take a getaway. 
Can I travel internationally now?
While many countries still have a travel suspension due to the 2019 novel coronavirus, several Caribbean islands, as well as the United Kingdom and Ireland are welcoming travelers from the US. A vacation favorite Costa Rica is welcoming US travelers and are many Caribbean islands.
Domestic travel safety
Fortunately, the US has abundant opportunities for diverse sightseeing and travel experiences to create the perfect vacation. Check local and state guidelines for travel restrictions at potential destinations, as regulations are being updated regularly. You may be required to self-quarantine for two-weeks, provide proof of a negative Covid-19 test 72 hours prior, and/or wear a facial covering or mask in public. Savvy travelers may prefer to vacation where there is a low occurrence of Covid-19. Vacationing close to home at an uncrowded location is another safer choice. Self-quarantining is not required if staying within your home state. Additional benefits to travelling a shorter distance include less gas station and restroom stops if you are driving, which also minimizes risks of exposure to the Covid-19 virus.
Travel industry changes to keep tourists safe
The success of hotels, airlines, cruise lines, trains, and vehicle rental companies are dependent upon keeping travelers safe. These industries have increased cleaning and disinfection protocols, made modifications to accommodate social distancing, and implemented disease prevention and safety techniques. While there is comfort knowing systems are in place to provide a less risky travel experience, it is still important to take wellness into your own hands by carrying personal safety and disinfection items, and researching and planning your trip ahead of time.
Fortunately, cancellation and rebooking policies across the board have become more lenient to ensure someone not feeling well doesn't travel. Whether you are travelling by airline or cruise ship, or staying in a hotel or resort, have peace of mind knowing that this policy will keep your safer. Confirm individual company policies and procedures regarding their specifics before you travel.
Travel safely to your destination
To reduce risk, choose an aircraft or cruise ship that is smaller and has less people on board. Having flexibility with travel times provides the option to change your flight or cruise to one that is less full. If driving, opt for a full-service gas station when available. Wear face coverings or masks whenever social distancing is not possible outside and anytime you are inside. Keep hand sanitizer and disinfecting wipes easily accessible and use them frequently.
SAVE 10% now on all travel packs!
Join our Electronic Travel Mag
mail list and we'll send you a coupon good for
any travel packs.
Travel accommodations
There is an abundance of options for lodging during your vacation, from boutique hotels, resorts, vacation home rentals, Airbnb rentals, or rustic lodges. Research the travel accommodation's safety protocols ahead of time to ensure you are comfortable with their cleaning and disinfecting protocols, HVAC system efficacy, social distancing measures, and face covering recommendations or requirements.
Safe dining while traveling
Stock up on snacks, drinks, and simple to prepare food items to prevent stopping at convenience stores along the way if driving and as an alternative to dining "out" for every meal. Avoid eating and drinking and keep your mask on when in close quarters with people not in your travel party, such as while on a plane. Choose an accommodation with a kitchen or kitchenette to enjoy a meal from the safety of your home away from home.
Travel tip: Opt for dining out at off-peak times so you are sharing space with less people. Dine al fresco if available. Choose a restaurant that doesn't have the same individual performing both server and table-busing jobs to minimize the spread of germs from table to table. Call ahead for details about outdoor dining reservations and safety protocols.
Travel safety kit essentials
Each traveler should have at least one face covering or cloth mask, preferably two or more per individual that are reusable and can be washed. Carry detergent or liquid soap so you can clean masks daily. While most businesses provide hand sanitizer dispensers for customer use, in case they don't or run out, carry hand sanitizer and disinfectant spray or wipes and stash them where they can be easily reached. Use disinfectant wipes not only clean surfaces, knobs, and handles in your travel accommodation, but also as a barrier at gas station pumps and public bathroom door handles. 
Safety considerations for vacation excursions
Planning excursions can be the highlight of any vacation. With a few safety considerations, you can enjoy them with less risk.
Look for activities and destinations that allow for social distancing. A priority for staying safe is to maintain at least 6 feet of distance from those not in your group.
Choose less populated and outdoor options whenever possible.
Wash hands often, cleaning well underneath fingernails. If unable to wash your hands, use a hand sanitizer with at least 60% alcohol. Rub hands together until they are dry.
Consider a location with a single-person restroom over a multi-person restroom. Always wear your face covering or mask and use a paper towel or disinfectant wipe for opening doors.
Move outdoors for safety
Many venues are moving their operation outside. Wineries across the country are offering outside tastings. Restaurants and gyms are providing their customers with outdoor options too. Other fun events have always traditionally been outside, like farmer's markets. They provide a great opportunity to pick up fresh local food and find that perfect handcrafted keepsake or gift from your trip. Often open-air markets provide live music and other artistic performances too. One afternoon, pack a lunch for a picnic aside a picturesque lake, on a hilltop, or in the forest for a memorable meal. Now is a great time to engage in already socially distanced recreational activities like golfing, hiking, and biking. Some less risky outdoor games include badminton, tennis, and volleyball- if played with members within the same travel party. Visiting a zoo is another great option. Many zoos have modified the experience to allow for social distancing and may require reservations.
Beach or pool safety
Spending the day at the beach or poolside is relatively safe if you follow social distancing guidelines and it is not too crowded. The main areas of concern are the entry points and restrooms. Wear a face covering or mask, stay six feet from those not in your group, and wash hands well to lessen safety risks at these locations.
Essentials for a safe vacation
Travel has changed from 2019 to 2020, and your travel pack ought to reflect this change by including additional safety and wellness items. Have peace of mind and enjoy your vacation to the fullest by safeguarding you and your family with the curated B. Ready travel packs, a collection of thoughtfully sourced protective products selected for safety, sanitation, sun, insect, and virus protection.
Safe travel is in the pack
Thoughtful planning and a focus on wellness and prevention can make your vacation the most relaxing time of the year. Curated air safety travel products from sunscreen to face masks to tummy tamers, like those in the B. Ready Child Safety Pack or the Couples Safety pack will keep you and the kids on the go safely.. B. safe at your hotel, while touring cool attractions and while traveling by car, air or ship. B. Ready to explore. Travel well wherever you may roam.