The Art of Yoga for Wellness
by Jennifer Marble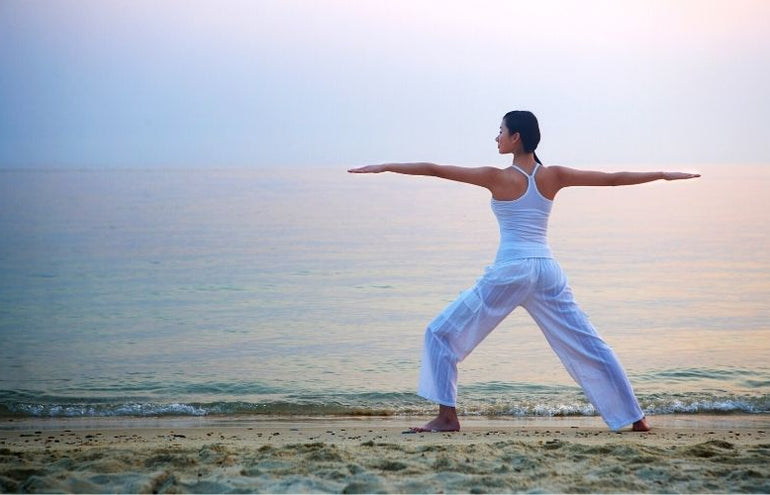 Apr
2021
A practice that balances the whole: emotional, physical, spiritual
"Yoga on the beach at sunrise sounds dreamy," you muse while packing your favorite pair of yoga leggings. The practice of yoga is vast, versatile, and inclusive. There are numerous types and disciplines to try out, with new forms being developed all the time. Yoga can be a challenging workout, a gentle, relaxing practice, it may focus on awakening the spirit, and everything in between. Incorporating the benefits of yoga into life can be accomplished in an infinite number of ways, depending on what the person practicing is seeking. Some participants prefer attending regular in-person group classes. Others enjoy practicing privately through videos, online classes, or private sessions. There are also individuals that primarily develop their yoga practice through books. For many, there is an overlap between these methods. Most important is that yoga is for everyone. This means all ages, degrees of mobility, and preferred learning and practicing modality.
Yoga can be practiced as often as preferred and can be incorporated into daily movements by taking what is learned on the mat and applying it to everyday life. This can be particularly important while traveling to maintain a sense of calm, stay balanced in new environments while on foot, and balanced in mind and health too. Travel safety and wellness can go hand in hand .As you pack your B Ready Premium Wellness Pack for the next adventure by land, air, or sea, consider how incorporating a yoga practice could make the trip even better keeping a focus on your health and mindfulness.
Make time for yoga during travel for a peaceful mind and maintained energy
Yoga is the Sanskrit word meaning "to join." Practicing yoga is different from stretching because it joins the breath with the movements of the body. During practice, the participant goes inward; checking in with the self and noticing the sensations of the body, bringing thoughts back to the present, and being aware emotional states and energy levels. Yoga is connecting the parts of the self, and cultivating a wonderful ability called "proprioception," or awareness of the body in space. This is splendid for improving balance, avoiding injury, and fostering self-awareness.

Making time to practice during a trip can facilitate a relaxed state of mind on the plane, help work out the kinks after a night spent in an unfamiliar bed, and maintain energy levels for that afternoon excursion. Pranayama, or the foundational yoga breathing techniques, can often be done discreetly sitting on a plane or in a car. Some airports, like the San Francisco International Airport, have yoga rooms available to reap yogic benefits between flights. Taking five minutes in the hotel room for a few mindful poses can be an instant energizer for the next stretch of the adventure. Often just getting started can lead to practicing more than anticipated.

It is beneficial to create a designated space for practice at home and during travel. Carrying a yoga mat may not be practical on a trip, but the Nomadix High Performance Travel Towel is the perfect companion. Made from post-consumer recycled plastic bottles and packing down small, laying this towel down can signal blissful practice time in your hotel, at the beach, or in that perfect grassy spot.
Try yoga on a cruise, at a resort, or experience a local specialty on vacation
Treat yourself kindly by trying a new yoga experience while travelling. Go all in and experience a yoga cruise like the 5 Day Wellness Cruise and Yoga Holiday in Camden, Maine this August. This intimate retreat aboard a traditional 130' sailboat features yoga for all levels with healthy meals and wellness workshops all while participating in the sailing experience.

Relax in luxury on land at the Rancho Valencia Resort and Spa in Rancho Santa Fe, California. This five-star resort features 45 acres of luscious gardens and citrus groves to choose from for your morning sun salutations. They offer customized wellness programs including a variety of yoga teachings and private instruction all offered in a gorgeous outside environment. Pair your practice with an aromatherapy massage of your choice afterwards to cultivate the ultimate tranquil California vibes.

To create a wellness addition to any vacation, seek out a local specialty yoga class on your next trip. For example, combine yoga with a fun night out at the Aero Rooftop Bar in Orlando, Florida. Participants don glow sticks and glow-in-the-dark paint for a high-energy rooftop class under the stars. Stick around afterwards for the VIP yoga party for a surefire memorable experience.
SAVE 10% now on all travel packs!
Join our Electronic Travel Mag
mail list and we'll send you a coupon good for
any travel packs.
Yoga is for everyone
There is a yoga method and practice out there for every body. Having great flexibility is not a prerequisite. There are props like blocks and straps, and varying methods and alternatives for poses that allow everyone to gain the benefits of safe and proper alignment.

In western countries, yoga classes often have a higher concentration of women than men. It is thought, however, that the roots of yoga originated around 2700 BC amongst the male high priest Brahmins of India. Although women were not explicitly prohibited from practicing, it was not until the early 1900's that women, including Indra Devi and Blanche DeVries, were first recognized as leaders in yoga.

Today, specialized classes are offered for many groups. There are classes just for men or women, prenatal yoga classes, and yoga tailored for children. Chair yoga is a great option for individuals with limited mobility, and yoga is even taught to professional athletes like football teams for improved body mechanics, balance, and to prevent injuries. On that note, an injury or limitation can often be accommodated in most classes. Communicating about the injury or limitation with the teacher or instructor ahead of time can facilitate a safer experience. As with every class, listening to your body is of utmost importance to avoid strain and injury and to attain the most benefits.
Popular yoga disciplines in the US
Choosing the right yoga class depends on the desired experience and goals. Some types are more physically intense, while other are more relaxing or gentle, and certain classes have a more spiritual emphasis. Here are a few descriptions of yoga styles offered throughout the United States.

Traditionally, Hatha yoga is any practice that involves balancing the mind and the body. In recent times, Hatha yoga has taken on a more specific meaning. The physical postures and breathing techniques are practiced slowly. Postures are held longer than in other types of yoga with rests in between. The modern understanding of Hatha yoga is that it is considered a gentler form.

Vinyasa is also known as "flow" yoga. Classes involve a sequence of poses with smooth transitions between. There are many varieties found within this style, and what to expect in a class depends on the teacher and their specific training. There are several sub-disciplines within Vinyasa, including Ashtanga (below), power yoga, and Jivamukti.

Kundalini yoga focuses on awakening the life force within the chakras of the body. There are some physical postures, along with meditation, breathing exercises, and chanting mantras. This discipline is along the less physical and more spiritual side of practicing yoga.

Ashtanga yoga has a more rigorous vinyasa style with a faster pace. The same poses are generally performed in the same order—think sun salutations. Overall, an Ashtanga class can be quite demanding. For this type of practice, a quick drying Nomadix Do-Anything Fitness Towel will come in handy
Restorative yoga focuses on slowing down with passive stretches to relax the mind and body. This restful practice usually has a handful of poses in an hour-long class and utilizes props including blankets, bolsters, and blocks.

Partner yoga, also known as couples yoga or the more vigorous version called Acro-yoga, is a great class to try when vacationing with your partner or friend. Along with the benefits of movement connected with the breath and focusing on the present moment, partner yoga is an opportunity to build trust, improve communication, and can be like a micro retreat for relationship strengthening.
B. Ready for Travel and Yoga
With all the wonderful options available, finding a yoga class that is right for your life now is possible and even simple. The only tough challenge may be choosing one! Whether your next adventure is focused on yoga, or if your practice compliments another travel purpose, we hope that you will B. Ready for safe travel and travel well. Namaste...