Is it Safe to Take a Cruise Now?
by B. Ready Wellness Editor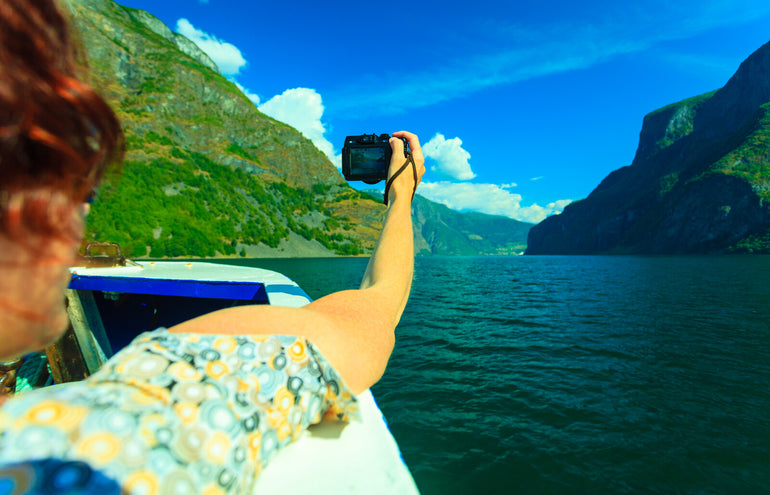 Oct
2020
B. Ready to set sail – focus on cruise travel safety
"I'm so ready to wake up at sea to the sound of water lapping the hull," you think as sigh contentedly and click the 'book now' button to reserve a stateroom with your favorite cruise line. Whether the turquoise waters and swaying palms of the Caribbean, dramatic nature, mountains of ice and wildlife in the waters off Alaska, or the southern charm of a Mississippi River cruise echoing the gentler time, United States-based cruises are dreamy escapes for couples, families and solo adventurers to explore, restore, and rejuvenate. You're excited! But your travel pack needs to look a bit different than it did last year. Travel safety and wellness are part of the vacation pregame. And many cruise aficionados are wondering, "Is it safe to take a cruise now?"
Taking a cruise is many travelers' favorite way to relax, have fun, and indulge in cultural delights. This experience will be different now in the wake of Covid-19, which has already changed so many aspects of day-to-day life. Let's look at what you can expect as cruise safety and specifically the measure the cruise industry has undertaken to mitigate the risk of the spread of infectious diseases such as viruses.
The cruise industry is collectively developing ways to keep the cruise spirit alive while keeping passengers and crew safe since the 2019 novel coronavirus has dominated headlines and lifestyles in the US since early spring. While these changes are still in progress, the cruise line companies are taking a comprehensive approach to making cruising safer with initiatives to mitigate the spread of the virus aboard cruise ships. This includes effecting changes to their disease safety prevention techniques, disinfection protocols, and implementing social distancing standards.
Cruise Safety - What cruise lines are doing to keep you safe
Some cruise lines including Windstar Cruises and Norwegian Cruise Line have implemented medical-grade HEPA air-filters that remove up to 99.95% of airborne pathogens. Most have implemented increased cleaning and disinfecting systems that include ultraviolet germicidal irradiation, disinfectant fogging, and electrostatic spray technology. Throughout the ships, attention will be paid to all areas; common areas will be regularly sanitized, including the gym and spas, children areas, and theatres. Public spaces including shops and entertainment and recreational venues on the ship will likely have an increased limit on guest capacity to provide sufficient space between people. Food and beverage crews and housekeeping staff will wear protective gear including disposable gloves and face coverings or masks. Also, toward the goal of enhanced cruise safety, crew assignments may feature more limited movement to provide for increased social distancing. Hand sanitizer dispensers will be readily available throughout public spaces. Additional upgrades to many ships may include touchless door openings and faucets. Additionally, common publicly shared items such as magazines and self-service snacks would be removed from circulation. Contact-free payment methods will be phased in to help curtail use of high-touch point of sale systems. Muster drills will be modified to allow for social distancing in the form of watching a video presentation from your stateroom with captain announcements via loudspeaker. Other novel approaches to the muster drill include Royal Caribbean's new Muster 2.0, an interactive eMuster viewed from your phone or tablet.
SAVE 10% now on all travel packs!
Join our Electronic Travel Mag
mail list and we'll send you a coupon good for
any travel packs.
A Healthy Sail Panel – cruise safety when ships sail again this fall
The cruise industry's future success is tied to its ability to keep cruisers safe from viruses like the 2019 novel coronavirus that can cause COVID-19. An example of the commitment the industry is making to provide the safest cruise experience possible is the partnership between Norwegian Cruise Line and Royal Caribbean International. Together, they have established the Healthy Sail Panel that includes collaboration with experts in the areas of science, medicine and research, public health, infectious disease, biosecurity, and maritime operations to provide the safest possible resumption of operations. The panel's co-chair Dr. Scott Gottlieb spoke of the group's goal in a recent interview with Travel Weekly, "Could taking a cruise potentially be a safer way to vacation in a Covid environment than going to London, I think it might."
Increased travel safety for passengers
Initiatives for safer cruising are far reaching and varied to meet the needs determined by each company based on their ship, capacity, routes, accommodations, and sundry other specifications. Across-the-board-measures that travelers can anticipate include more space per person on future cruises, due to some cruise lines plans to decrease their passenger capacity numbers by 30-50%. Streamlining of embarking due to the elimination of early boarding means entry to the terminal will only be allowed at the selected boarding time. Many cruise companies are also planning for pre-embarkation health screenings prior to boarding for all guests. Touchless temperature screenings will occur on some ships prior to boarding, at disembarkation, prior to meals and activities, and upon returning to the ship from any port of call. At these times, a cloth face covering or mask will likely be required for all passengers when in enclosed areas and during times outside when passengers are unable to socially distance.
Crew members and staff safety preparation and training
Cruise lines have increased employee training of cleaning and disinfection protocols as well as social distancing. All crew members will be wearing face coverings or masks and will be tested for COVID-19 before their assignment. Many cruise lines are increasing their onboard medical personnel and limiting their crewmember's movements between ships. Some cruise lines are restricting or eliminating shore visits for crew members for the duration of their assignment to ensure they are not exposed to coronavirus while off their ship.
Traveler safety - safe dining and more space
The delicious news is there is no indication that cruise ships are modifying their robust menus. Passengers can still expect the same diverse cuisine, bountiful offerings, and a plethora of options. What is changing is the method of delivery of that fare. The famed cruise buffets may be modified by the addition of extra staff to serve food items to limit touching. Travelers can expect increased social distancing practices, individually plastic-wrapped utensils, and handwashing/sanitizing stations in and near dining areas. Expect a trend towards smaller table sizes, tables spaced farther apart, and increased outdoor seating. Menus may now be presented by a tablet that has been disinfected between use or available to passengers via their own mobile devices. For cruise lines that previously charged a room service fee, it may be waived to encourage this social distancing option as an alternate to dining "out" for every meal.
The show will go on - Seating during live shows and performances will be spaced to allow for social distancing. There may be extra performances scheduled, or reservation requirements to allow for smaller attendance at each performance. Guests that travel together should still be able to sit together for shows and meals.
Pool deck modifications - Passengers will see less chairs and loungers by the pool, and social distancing markers in the pool lines. Pools and hot tubs will have decreased capacity too.
Stateroom sanitation protocols for optimum passenger safety
On many cruise liners there will be a seal upon the entrance to individual staterooms and cabins to indicate the cabin has been disinfected. Items including remote controls and hairdryers could be sealed in plastic upon guest arrival. The frequency of room attendants entering cabins for bed making and turn down services may decrease to minimize the frequency with which staff and crew must enter passengers' rooms.
Cancellation policies have become more flexible for traveler safety
Flexible cancellation and credit policies have been implemented by several cruise lines, including Royal Caribbean International, Celebrity Cruise Line, and Carnival Cruise Lines to ensure those who feel ill can stay home without incurring cancelation fees. Travelers can feel safer knowing others will be able to postpone their trip without penalty if they feel unwell.
Personal wellness and safety on your next cruise
Be well prepared to board by carrying a curated B. Ready travel pack and implementing a few safety essential practices for wellness.
Check the certifications and safety protocol standards for cleaning, disinfecting, and air quality safety, crew member training and protocols, social distancing recommendations, and face covering requirements on any cruise you are considering.
Wear a reusable face mask anytime you leave your cabin and are unable to socially distance.
Carry alcohol-based hand sanitizer with at least 60% alcohol and have it readily available.
Use disinfectant wipes to clean all surfaces, knobs, handles, and latches upon arrival to your cabin.
Consider room service in your cabin occasionally or enjoy outdoor dining more often.
Opt for a balcony from your cabin to provide your own private socially distanced outside space.
Practice social distancing with those not travelling in your party while at the pool, on deck, in dining areas, and all other public areas.
Keep motion sickness at bay with Motion Ease and enjoy the specially crafted blend of essential oils that smell divine and keep your tummy feeling its best.
Drink copious amounts of water to stay hydrated for wellness.
Book a cruise - smaller ships as a safer option
Ships or yachts with fewer than 250 passengers may be resuming travel sooner than larger ships. This includes domestic sails, as some travelers may prefer to be closer to home. One destination to consider is Alaska, which is considered both a safe haven and full of natural wonder. River cruises are another great option with small-group settings and more space per person.
B. Ready to travel safely on your next cruise
Cruise travel during the pandemic will look and feel different than ever before. But taking control of your safety and wellness will allow you to B. safe, to B. Ready…wherever the winds blow you on your adventure on the high seas, or along quiet waterways. Our curated collection of cruise-inspired B. Ready travel packs have been designed to accommodate the needs of you and your family―from face coverings and masks, to personal utensils and sun protection to wellness support and personal care like peppermint inhalers for nausea and piña colada lip balm. So, B. inspired to explore. Feel safe on the journey. B. Ready for your next cruise!