Best of Savannah Georgia, Historic Coastal Allure
by B. Ready Wellness Editor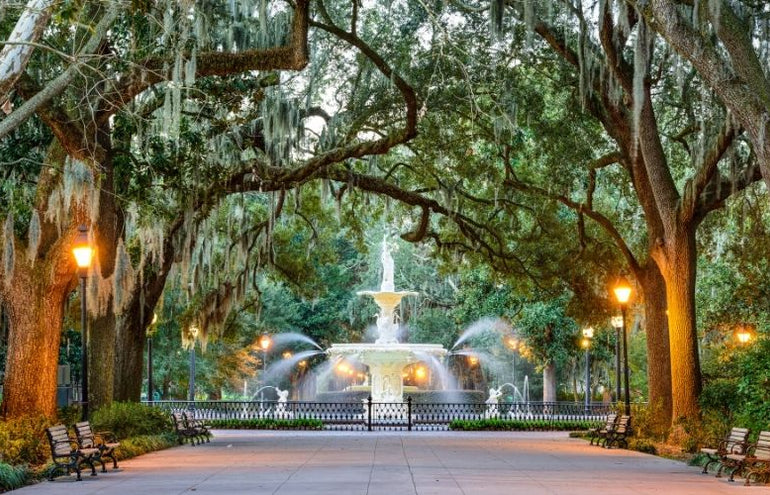 Mar
2021
Sip, taste, and savor this historic coastal city
"The oak-lined cobblestone streets and antebellum architecture feel like stepping back into the 1800s" you muse from your hotel balcony in the heart of Savannah in Georgia. Known as "the world's friendliest city," the vibe is the perfect combination of historic and hip with cocktails and mocktails at every meal. John Berendt said it best in the book Midnight in the Garden of Good and Evil, "If you go to Atlanta, the first question people ask you is, "What's your business?" In Macon they ask, "Where do you go to church?" In Augusta they ask your grandmother's maiden name. But in Savannah the first question people ask you is "What would you like to drink?"

To help you plan, we have gathered a list of the best of Savannah, according to our personal experience from getaways to this gentle city. Follow along to discover the unique landmarks, treats, and treasures found under Savannah's curtain of Spanish moss.
We love Savannah City Market
Nestled between two Savannah squares and stretching a full block in each direction, shoppers and window watchers alike can meander City Market any day of the week. Savannahians have gathered here to shop since the 1700s. Today the market offers popular restaurants, dozens of art galleries, specialty stores, and an array of live shows daily. From street musicians to renowned concert bands, performances can be enjoyed both inside and out.
Stay safe, comfortable, and stylish while enjoying the market's daily delights with a 3-pack of sky blue 3-layer face masks or for broader faces the handsome men's reversible facemask.
Forsyth Park
Named for Savannah's 33rd governor, the regal Forsyth Park has 30 acres inviting visitors to relax, play, enjoy a concert, or soak in the sunshine. Here you will find the city's most famous fountain, reminiscent of fountains of the Place de la Concorde in Paris. Originally installed in 1858, this fountain is a popular place for proposals, weddings, local artisans, and of course, relaxing and enjoying the view.

Forsyth Park has two playgrounds, a summer splash pad, basketball and tennis courts, and large open fields for picnics, lounging, or playing games. The park is also famous for annual festivals including the Sidewalk Arts Festival in April, the Savannah Jazz Festival in September, the Picnic in the Park with the Savannah Philharmonic Orchestra in October, and the Rock 'n' Roll Marathon in November.
River Street Riverwalk
Along the southern edge of the Savannah River is the 2-mile-long River Street. The eastern portion hosts centuries-old buildings formerly cotton warehouses converted into lovely boutiques and treat shops, cozy brew pubs, delectable cafés, and restaurants. Take a leisurely stroll down the half-mile pedestrian promenade. Hop on a water taxi or ferry boat for a scenic view of the river to gaze upon numerous statues and monuments including the Olympic Torch sculpture celebrating the yachting events of the 1996 Summer Olympic Games and the larger-than-life Waving Girl statue, a tribute to the sister of the Elba Island lighthouse-keeper.
St. Bonaventure Cemetery
Situated with a beautiful vista on the bluff of the Wilmington River, the Bonaventure Cemetery was original a private cemetery beginning in the 1840s that became public in 1907. This charming tourist destination has signature historic tree-lined roadways, unique sculptures and architecture, and is the final resting place for many famous individuals. One of these individuals is songwriter Johnny Mercer who hits include "Jeepers Creepers," "You Must Have Been A Beautiful Baby," and "Satin Doll." Writer Conrad Aiken's gravesite at Bonaventure Cemetery has a bench for a tombstone at Mr. Aiken's request so that visitors can relax and enjoy a martini at his grave.
SAVE 10% now on all travel packs!
Join our Electronic Travel Mag
mail list and we'll send you a coupon good for
any travel packs.
Mercer-Williams House Museum
The handsome and elegant Mercer-Williams House Museum was originally designed for General Hugh W. Mercer, the great-great-grandfather of Johnny Mercer. Designed by architect John S. Norris, construction was abruptly halted during the Civil war and completed in 1868 after General Mercer sold the unfinished stricture. With Greek and Italianate designs and touches of Renaissance Revival, the house maintains the original moldings, floorings, windows and doorways, hand railings, and interior dome. Savor original 18th and 19th century Regency and Empire furniture, along with an impressive collection of portraits, artwork, antiques, and porcelain. For visitor safety there is limited capacity and advanced reservations are needed. Also, face coverings are required.
Taste of the South: Savannah Taste Experience
Choose from the many scrumptious culinary tours offered in Savannah. The 3-hour Food Squares Food Tour offers tastes of decadent low country dishes paired with the area's unique history. The Famous & Secret East Side Food Tour takes guests off the beaten path to uncover secret stories and haunted locale while sampling ethnic, gourmet, fusion, and local treats, and authentic southern food. For a shorter tour, try the Southern Fried Expectations Food Tour to enjoy genuine southern comfort food and fried favorites that connect history to your taste buds. Or have a rousing good time with the Walktails & Bar Bites Happy Hour Tour where guests visit 4 unique and surprising bars where specialty cocktails are paired with delicious bites.

No trip to Savannah is complete without sampling the multitude of pralines and other treats found at Savannah's Candy Kitchen. For over 40 years and 3 generations they have offered mouth-watering assortments of pecan pralines all made fresh onsite with Georgia pecan halves, real butter, sugar, and rich cream. Other southern sweets available include turtle gophers, gourmet popcorn, candied nuts, toffee, peanut brittle, and much more.
Unique accommodations in Savannah
Visitors can take their pick from the plethora of accommodations available in Savannah. There is something special here to meet every traveler's need and whimsy. For those seeking a historic and fabulous boutique hotel, the Old Harbour Inn built in 1892 is an excellent option. Situated on a cobblestone street lined with mossy oaks and beautiful Emmett Park as the front yard, the Old Harbour Inn has plenty of tall ceilings and vintage architecture to enjoy. Every room is a large suite and pets are welcome.

If looking for luxury, the Perry Lane Hotel is the perfect oasis. Situated close to Savannah's historic destinations, guests enjoy a variety of locally sourced dining options, a swanky and sophisticated rooftop bar and ballroom, and elegant rooms curated for comfort.

For hidden gems galore, a favorite option for those wanting to get off the beaten path are the Mermaid Cottages of Tybee Island, located about 20 minutes outside Savannah. All cottages are just steps from the beach, fresh and clean, and have their own unique cozy island charm. A portion of the proceeds from every cottage rental goes to support Sea Turtle Conservation and local animal rescues.

While preparing for your stay, check out the article "Is it Safe to Stay at Hotels in the US?" for tips to help travelers be better prepared and have a safe experience while staying at an accommodation.
Travel to Savannah safely
Whether arriving in Savannah by plane or car, there is a customized travel safety pack perfect for your journey. For road trippers, the Car Travel Safety Pack, has everything needed to get there and back safely including a cloth facemask, hand sanitizing wipes, toilet seat covers, and much more in a convenient travel bag. For those flying, the Airline Travel Safety Pack has you cleared for take off with a TSA approved travel bag full of travel safety essentials like antibacterial gel, disposable and biodegradable gloves, and cloth face masks. For an enhanced ravel experience, add items to your travel kit including immune boosting lollipops, motion-ease aromatherapy inhalers, or luscious Maui lip balm. Let B. Ready help make your next trip a safe travel experience.

We adore Savannah. Be enchanted by her southern charms and historical delights. B. safe while you travel. B. Ready to explore.