The United States Lifts its Cruise Ban
by B. Ready Wellness Editor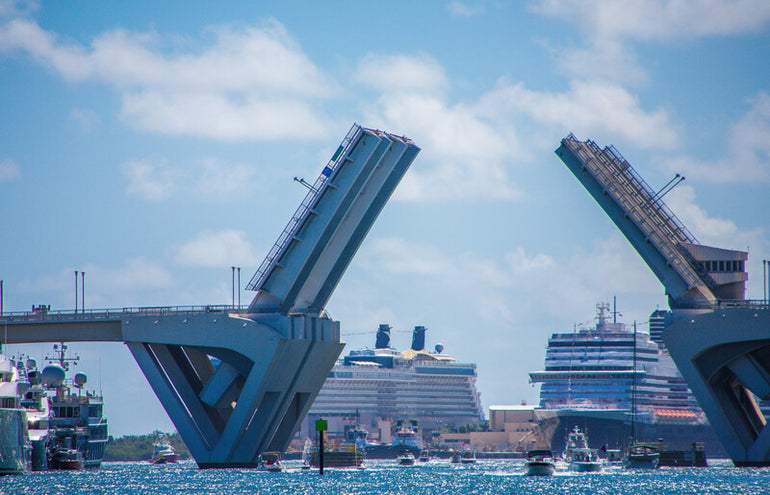 Nov
2020
November 2020 updates on cruise safety
"Honey, I think we can take a cruise this spring after all!" you call out in excitement while clicking from the news page and onto a travel booking website. The good news is out and after canceling some international travel plans this year you now have a chance for vacation at sea. On Friday, November 7, the Centers for Disease Control and Prevention's (CDC) No Sail Order for cruise ships in US waters expired. First issued in March the No Sail Order was extended several times until the CDC announced on October 30, 2020 that the order would not be continued. We all know that travel safety is vital now and we understand the new normal of cruising will look different. This is a start of finding balance again. Sigh and smile, everyone.
The CDC has however recommended that Americans avoid cruising right now
This seemingly mixed message has been disconcerting to many. Yes, the ban is being lifting with several safety caveats. According to the CDC website, "At this time, CDC still recommends avoiding any travel on cruise ships, including river cruises, worldwide…" The message is really this: the ban is being lifted. Now the United States cruise industry―which operates in US waters―can move forward to the next steps od safe cruise planning. And no, the CDC does not suggest any American consider cruising anywhere in the world― at the moment. 
One major development since the US cruise ban (those operating in US waters) was lifted is the announcement of effective vaccines from 3 US manufacturers. The next few months will bring many changes and we anticipate cruising will begin with new safety protocols. In the meantime, at B. Ready we know travel and especially cruise travel safety is on your mind. It is certainly on ours.
This article will explain a bit about the United States cruise industry and its "conditions" for once again sailing.

As for the US cruise industry and the need to make it infinitely safer, the US CDC issued the 40-page Framework for Conditional Sailing Order for Cruise Ships. The keyword in this title is "conditional," as the cruise ship industry will not be returning to business as usual— not like it was in 2019. The framework's steps are driven by a new normal of travel safety initiatives for passengers and crew and the comprehensive research done by teams of virologists and medical industry specialists along to ensure the industry can be cautious when resuming operational passenger cruises in the US.
What are the conditional first steps for the US cruise industry?
The four phases to this framework's approach include:
Laboratory testing established for onboard cruise ship crew members in US waters
Voyage simulations test the cruise ship operators' ability to mitigate COVID-19 onboard in real world conditions
Cruise ships must obtain a "Conditional Sailing Certificate"
Passenger voyages resume utilizing methods that mitigate the introduction, transmission, or spread of COVID-19 to any person onboard or to ashore communities
The phases may be modified at any time depending on the trajectory of viral spread and the ability of cruise ship operators to successfully apply the measures for mitigating virus' risks.  
SAVE 10% now on all travel packs!
Join our Electronic Travel Mag
mail list and we'll send you a coupon good for
any travel packs.
What is required by cruise lines before US cruises may resume?
Cruise safety is on our collective minds. You want to feel completely safe on your cruise vacation. With so much uncertainty and anxiety in 2020, you want to be able to feel free, to embrace wellness, and you want to B. in control. We have researched the cruise industry newly-minted conditions for virus prevention and this is what we found: There are several conditions cruise ship operators must satisfy to resume passenger operations. For the foreseeable future, travelers can expect when booking a cruise that the itineraries will be limited to 7 days or less. Cruise advertisements and websites may also look a little different as all cruise ship marketing material will now include CDC warnings and guidelines.

Some of the new safety requirements for cruise ship operators for vessels carrying 250 or more passengers include:
Screening of passengers and crew for signs, symptoms, or exposure to COVID-19 before boarding the ship
Testing for COVID-19 for all passengers and crew before embarking and on the day of disembarkation, and anytime illness is reported on the ship
Adherence to necessary quarantine and isolation standards
Development and maintaining of onboard COVID-19 lab testing facilities for crew and passengers
Meeting standards for hand hygiene, face coverings, social distancing, and ship sanitation— this includes modifications of meal and entertainment services and reducing passenger capacities Providing the CDC with written agreements from land hospitals and ports regarding cruise ship evacuations
Training crew members in health and safety requirements and protocols
Providing staff members with individual cabins rather than shared rooms

For more information on how the cruise industry is implementing protocols for a safer cruise experience, check out the blog post, Is it safe to take a cruise now? 

How soon can I go on a US-based cruise? 
The exciting news of the cruise industry setting sail again has travelers thrilled to finally make that long awaited stateroom reservation. Many savvy cruisers are talking about plans for late winter and early spring. The actual date cruise operations will resume depends on both the cruise operators obtaining the required certifications as well as the successful completion of the steps laid out by the CDC. Cruise companies including Disney Cruise Line, MSC Cruises, Bahamas Paradise Cruise Line, and Virgin Voyages have cancelled passenger cruise operations through at least December 1, 2020, while Royal Caribbean Group, Carnival Corporation, Norwegian Cruise Line Holdings, and Princess Cruises set their cancellation date through December 31, 2020. This gives cruise operators additional time to make the necessary safety preparations and to practice test sails. Packing your travel bags for a 2021 cruise is both long-awaited and now a realistic possibility.
How should I B. Ready for a safe cruise adventure?
In addition to the safety measures being implemented by the cruise ship industry, travelers can take wellness into their own hands by carrying an essential personal travel safety pack.  In addition to the usual personal items for protection from the sun, insects, and the occasional bump or scratch, preparations for "the new normal" now include safeguarding for virus protection too.
The B. Ready Voyager Travel Safety Kit  is the perfect companion for cruising the seas in safety with personal items for germ protection including a cotton double layer face mask, antibacterial hand gel, safe for skin and surfaces sanitizing wipes, sanitizing spray, and the hard-to-find biodegradable disposable gloves. Also included in the Voyager― our most popular travel safety kit, for a decadent and comfortable cruise experience are luscious piña colada lip balm, coconut sunscreen, body butter, essential oil insect spray, and a travel first aid kit, all conveniently stored in a reusable travel bag. For individuals that may experience motion sickness, add Motion Ease to your safety travel pack and calm the inner storm with its divinely scented blend of essential oils.
B.Ready to feel the ocean breezes at last, to hear the unforgettable sound of the waves lapping the hull, and to experience the memorable moments that are found only on a cruise.