Five Best Small Town Destinations in the US - Winter
by B. Ready Wellness Editor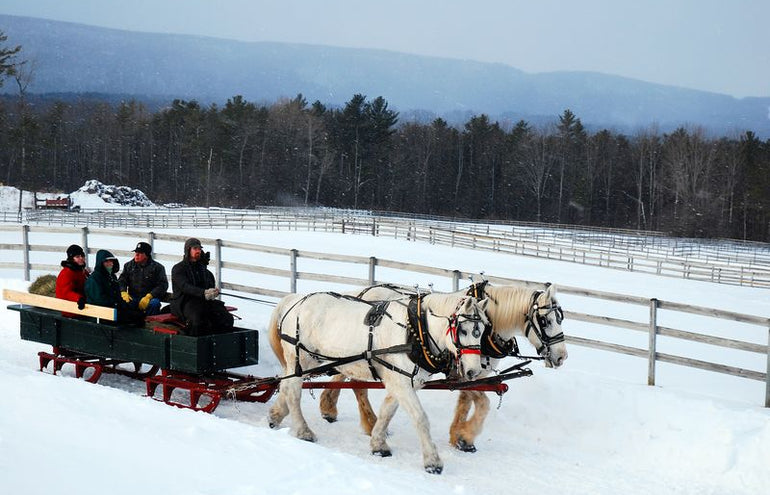 Dec
2020
Top winter getaways from Stowe to St. Augustine
"I want to sip hot cocoa on a snowy horse-drawn sleigh ride," you think to yourself as you wander from page to page online seeking the idyllic winter wonderland vacation in the Berkshires in western Massachusetts, or…maybe Stowe in Vermont. Perhaps your dream is of looking up at Spanish moss hanging from live oaks on horse-drawn cart ride winding through the historic seaport of St Augustine in balmy Florida. US based vacations are on trend as 2020 turns to 2021 and we seek ways to explore while staying safe by social distancing and spending time with close family. "Where are the best winter destinations in America," you ask? Read on.
Whether your US based winter travel plans include snow-capped peaks or sun kissed beaches we have discovered 5 top small town winter destinations for your consideration and for some vacation daydreaming. Each of these―voted best winter destinations by our travel safety team is rife with charm, insta-worthy scenery, great dining and shopping, high and low intensity activities, abundant nature, and darling accommodations and each lends itself to for social distancing which to us makes them just about perfect. Stowe in mountains of northern Vermont; Carmel-by-the-Sea on California's rugged central coast, quaint Stockbridge The Berkshires in western Massachusetts, historic St. Augustine in sunny Florida, and the sailing and summer cottage haven of Newport, Rhode Island.
Traveler safety is foremost on our minds and probably yours as well. While staying healthy and prioritizing wellness means adding a few select items to your travel essentials, we have made it easy. Our B. Ready curated travel safety pack for road trips, hotel stays and air travel safety so you will B. prepared for any great adventure this winter and beyond.
Cozy small towns and cities are the perfect destinations to keep up with social distancing practices while having a wonderful adventure. Some of our favorites make the top 5 list of the best small towns to explore for a memorable winter getaway.
Outdoor natural adventures in charming Stowe, Vermont
For an outdoor snowy adventure, Stowe is an on-point destination. In this region, which surrounds the highest peak in Vermont, Mt. Mansfield, one will turn to Sunrise Mountain Guides, the local experts for winter recreation. Their mountain guiding service takes visitors to breathtaking snowcapped mountain scenery for ice climbing, backcountry skiing, cross-country skiing, snowshoeing, and mountaineering. Try a collection of these activities and join the Stowe Mountain Meister Challenge for a more diverse opportunity to connect with the area's natural wonders. There are no lift lines required and every activity is naturally socially distanced.
Eden Ethical Dog Sledding Experience is an excellent option for a magical and educational sledding adventure! Experience the serenity and peace of this remote location within three-thousand acres of Vermont Land Trust wilderness. Witness flocks of wild turkeys, deer, songbirds, bear, and hawks. Fill the days with a group of international dog-sled champion Alaskan Huskies that are free-range and well-cared for. Safety and virus prevention items including facemasks and are required, so pack your travel safety pack designed for wellness (LINK) for this experience.
SAVE 10% now on all travel packs!
Join our Electronic Travel Mag
mail list and we'll send you a coupon good for
any travel packs.
Warm white sand beaches and fine dining in Carmel-by-the-Sea, California
Originally founded in 1902, this coastal artist community features a lush, Mediterranean climate that stays green all year along and inviting white sand beaches. With average winter temperatures of 60° Fahrenheit, this winter escape can be experienced in short sleeves. Carmel-by-the-Sea is idyllic for California dreaming.
Bring an umbrella, chair, and towel to spend a winter's day at the Carmel Beach. Go for a long walk along the shore to feel the sand between your toes, locate the perfect spot to picnic with a view of the epic coastal bluffs, or find that perfect wave to surf.
Choose from dozens of local restaurants with open-air seating, like La Bicyclette, featuring "European Country Cuisine" made from fresh, locally sourced ingredients. All food is prepared small batch and they even have a wood-fired oven. For the next dinner out, relax in the ambiance of the Treehouse Café, where diners are seated in a charming private veranda to enjoy Mediterranean, Greek, and Thai cuisines paired with local wine. Be sure to spend an evening at the Aubergine, where you will be seated in their lovingly curated interior courtyard amongst geraniums and bougainvillea flowers under a ceiling of stars. Savor an award-winning 8-course meal prepared with the region's best seasonal ingredients. Our travel sanitizing kits the perfect accompaniment to navigate safely through these dining pleasures.
Fresh local fare and Norman Rockwell art in the Berkshires, Massachusetts
The winter farmers market season has begun in the beautiful Berkshires. Show support for small farms and savor the mouth-watering fare. Berkshire Grown's Winter Farmers Market happens every Saturday now through April at Eisner Camp in Great Barrington. Shop locally grown produce like winter squash, greens, apples, and root crops. Choose from fresh meats, cheeses, maple syrup, baked goods, jams, and cider. In keeping up with current safety recommendations, facemasks are required, and all shoppers are asked to maintain six feet between parties to keep everyone protected.
Take a stroll down the magical Main Street of Stockbridge during the holidays—gaze at the festive lights and cozy decorations while being immersed in the real-life location of the iconic 1967 Norman Rockwell painting Main Street Stockbridge at Christmas (Home for Christmas). Next, take a short five-minute drive to admire the actual painting hung at the nearby Norman Rockwell Museum. The museum is home to the largest and most comprehensive collection of Norman Rockwell works in existence. Visitors can expect to view numerous collections and revolving exhibits showcasing nostalgic images of small-town America. Purchase timed tickets in advance and stroll the exhibits at reduced occupancy for safety. 
The Nights of Lights 2020 in the historic district of St. Augustine, Florida
A winter-time trip to St. Augustine is magical in winter thanks to the breathtaking holiday lights display in the historic district. There are many options for experiencing the Nights of Lights 2020, and since the display event is going on through January 31—you can choose to experience them all. St. Augustine is a top Florida destination all winter, in fact all year.
If going on foot sounds like fun, join one of the many walking tours offered or leisurely meander at your own pace along the bay front and the original cobbled streets. Looking to put your feet up, but still want to explore the nooks and crannies of the historic area? Relax in a luxury guided golf cart with Explore Tours. This service is pet friendly and includes holiday glasses for a one-of-a-kind viewing experience.
Hop on a classic Old Town Trolley Tour. This year plexiglass dividers were added, and seats are sold by the row to eliminate waiting in lines and as an added preventative safety measure.
Try something new this year and step aboard one of the many scenic cruises that sets sail from the St. Augustine Municipal Marina to see the lights dazzle across the water. Choose your perfect way to cruise with vessels like the Old Town Cycle Cruise's party pontoon boat that is pedal powered with a lounge area and dance floor. Hop on the Schooner Freedom which is the largest sailing vessel in St. Augustine and now operating at reduced capacity. This ship includes 2000 of its own sparkling decorative lights, cozy blankets, and complimentary refreshments. Carry our cruise safety travel pack for this adventure and be prepared for every wave.
Find delight in a romantic horse-drawn carriage ride through the historic town for a 3-hour long wine pairing tour that explores the local culinary scene matched with the perfect wines. 
Majestic mansions with festive lights and cozy igloos in Newport, Rhode Island
The Newport Gilded Age mansions are hosting a spectacular outdoor event this year through January called Sparkling Lights at The Breakers: An Outdoor Magical Wonderland. The Breakers and The Elms mansions are bedecked in evergreen wreaths, fresh flowers, and other festive ornamentation, with dining areas set with period china and silver. For the first time ever, the surrounding landscape of The Breakers will be lavishly decorated with daily light shows. Walk the glittering historic pathways to bathe in the glow of sparkling trees and twinkling décor. Take in the exquisitely illuminated mansion façade while enjoying holiday music. The Children's Cottage will be outlined in colorful lights too. Visitors can peek into its windows to see Santa's workshop while sipping hot chocolate and tasting sweet treats. The Blithewold Mansion, Gardens & Arboretum is presenting a stunning lights and handmade decorations display through January. Paths are wonderfully lit for an illuminated scavenger hunt with prizes and hot drinks for all. Currently, tours are one-way to allow for social distancing with facemasks required for safety.
Back by popular demand, the seaside Gurney's Newport Resort and Marina has multi-sensory themed igloos this season. The lavish igloos provide intimate seating for up to four people are heated and gorgeously adorned with seasonal lights and décor. Each igloo has an individual theme with accompanying games and music. Guests savor festive cocktails paired with assorted snacks while enjoying views overlooking the Narragansett Bay and the Newport Bridge. Igloos are disinfected between reservations with a mist fogger and disinfectant solution, providing a safe and relaxing experience.
Newport on Narragansett Bay in Rhode Island is known as the premier sailing capitol on the east coast. A walk along the handsome wharf will deliver to you the dazzling sight of countless yachts strewed with lights that dance off the briny water as the boats rock in the gentle breeze. Along famed Bowen's Wharf the Christmas tree is a focal point of many holiday festivities. Nearby hotels and guest houses offer a bounty of choices from luxe to charming coastal.
B. Ready for winter adventure and B. Safe on the journey
From the rugged coast of Carmel-by-the-Sea to the gently swaying palms in St. Augustine and the swaying yachts at Newport, to the snowy wonderlands of Stowe and Stockbridge winter's best destinations are beckoning you. Travel well. Explore with abandon. B. Safe with our thoughtfully-sourced travel safety packs…wherever you may roam.